Single and Album Listing
[Disclaimer: Info supplied by The Gold Collection, Saint Seiya Discography, 1986-1997
Translated and Labelled by Aries Mu(Philip Ho) ]

Label:
[Gold] - Also in Gold Collection
[MB] - Also in Memorial CD Box
[Gold, MB] - Also in Gold Collection AND Memorial CD Box


Album

"Piano Fantasia"
32CC-3217
1.Promise in Protection Star
2.Time[Gold]
3.Nebula Chain
4.Pegasus Fantasy[Gold]
5.dessin I "Polaris Hilda"
6.Blue Forever
7.dessin II "Polaris Hilda"
8.Undersea Temple
9.Blue Dream
10.dessin III "Save Goddess!"
11.Soldier Dream[Gold]
12.Athena's Theme[Gold]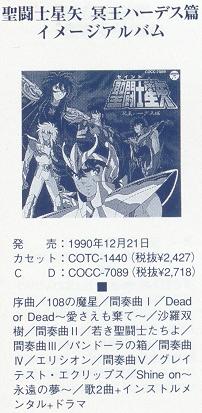 "King of the Underworld, Hades Chapter Image Album"
COCC-7089
1.Prologue
2.108 Evil Stars[Gold]
3.Interlude I (Drama Track 1)[Gold]
4.Dead or Dead ~ Even Love is Thrown Away
5.Twin Salas
6.Interlude II (Drama Track 2)[Gold]
7.Young Saints!
8.Interlude III (Drama Track 3)[Gold]
9.Pandora's Box[Gold]
10.Interlude IV (Drama Track 4)[Gold]
11.Elysion
12.Interlude V (Drama Track 5)[Gold]
13.Greatest Eclipse[Gold]
14.Shine On ~ Eternal Dream[Gold]
[Go here for more info on Drama Tracks]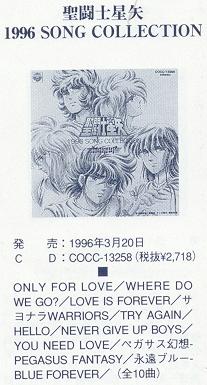 "1996 Song Collection"
COCC-13258
1.Only For Love
2.Where Do We Go?
3.Love is Forever
4.Sayonara Warriors[Gold]
5.Try Again[Gold]
6.Hello
7.Never Give Up Boys
8.You Need Love
9.Pegasus Fantasy[Gold]
10.Blue Forever[Gold]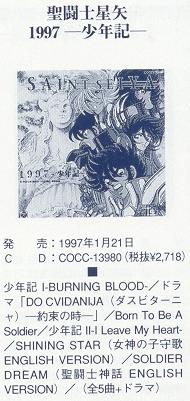 "1997 Boy's Tale"
COCC-13980
1.Boy's Tale I - Burning Blood[Gold]
2.Drama [Do Cvidanija - Time of Promise][Gold]
3.Born To be a Soldier
4.Boy's Tale II - I Leave My Heart[Gold]
5.Shining Star(Goddess' Lullaby(Lullaby English Version)[Gold]
6.Soldier Dream(Saint Legend(Soldier Dream English Version)[Gold]
[Go here for more info on Drama Tracks]

Goto Gold Collection/Home