Episode 9: Supreme Comet!!
Shu-puri-mu Kometo
[Ooi naru Suisei!!]
"IKKI!", shouts Seiya, "You really did came!"
[Yappari kite kuretanda ne!].
"As long as I have these wings, I will return!", shouts Ikki.
Hearing this, Hyoga smiles.
"COME ON! LET'S GO! ONE MORE LIGHTNER LEFT!", shouts Seiya!
"OHH!!", shouts the rest in agreement and all Five Bronze Saints run toward the last Purge.
...
At the Seventh Purge, a woman is speaking to herself, "All Five Bronze Saints are still alive... As expected, it is left to me,
Lust, Lamia, Cleo to kill them all...."
Rasuto Ramia- Kuri-o
[Yoku Tenshi:Lust Angel] [Kyuuketsuki:Vampire]
"Ha!" laughs someone, "You haven't changed a bit, have you...?"
Cleo smiles and says, "Well! IF IT ISN'T THE FALLEN ANGEL, BRAHMA!!"
[SOU KA! DA TENSHI BURAFUMA DE WA NAI KA!!]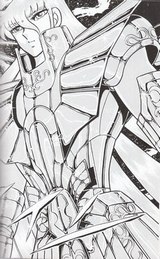 "Long time no see, Cleo... But my name is Shaka..."
"Very well.. So, where's Athena? You were with her, weren't you? Can she go to Olympus alone? That's almost like suicide, no?"
"Instead of worrying about Athena, worry about youself!"
Atena
[Megami]
"You will fight me! Shaka?", says Cleo enjoying the prospect.
"To protect the Earth, I will!", shouts Shaka! But just as he is about to raise his right arm, there is!
"SHAKA!! YOU'RE HERE TOO!", shouts Seiya. The five boys have arrived.
[SHAKKA!! OME MO!!]
"All of you, please pass...", says Shaka.
[Omae tachi, iki tamae... ]
Seiya looks at Shaka for a moment and says, "I understand!"
All five of the Bronze Saints run toward the Summit of Purgatory.
"You didn't try to stop them..." says Shaka.
"It doesn't matter. No matter how you Saints struggle, it's useless. Soon the Earth will be destroyed. By the great power of Zeus, he will bring Comet Elli to collide into the Earth, that event is called, SUPREME COMET!! You already know this,
Shu-puri-mu Kometo
[Ooi naru Suisei!!]
Shaka!"
"Yes... When that comet impacts the Earth, the shockwave will instantly kill everyone within thousands of miles! There will be tidal waves the size of mountains! The dust driven up from the impact will blanket the Earth and Nuclear Winter will result. All life will die, not even micro-bacteria will survive..."
"THEN WHY SHAKA! You know Athena will lose! Stop this! Come back to Zeus and together we will share the New Age! My feelings toward you have never changed! SHAKA! MY HEART STILL BURN FOR YOU!!"
"Cleo...", says the Gold Saint, coldly, "Like I said a long time ago, I am not interested in a sultry woman like you..."
[atsukurushii]
With that, Cleo is steaming with anger and shouts,
"FINE! SHAKA! DIE ALONG WITH THE EARTH!!"
[YOKAROU! SHAKA!! CHIYOU TOMODOMO HOROBIRU WA!!]
Cleo burns her Cosmo and the aura of Lamia, the bloodthirsty vampire appears!
"ARDENT PRESSURE!!!!!!!!!!!!!!!!!", shouts Cleo and a naked Vampire Woman wraps Shaka in her bat-wings to
[A-DENTO PURESSHA------------!!]
squeeze him to his death!
"HO HO HO HO HO HO HO!!!!!!!!", laughs Cleo, seeing Shaka suffer, she can't help but feel pleasure running all through her body! The Gold Cloth explodes! As Shaka falls to ground, filled with pain, Cleo screams for the climax she is feeling, "Ahhhhhhhhhhhhhhhhh!!!! Yes...!"
Cleo lies down on Shaka and licks his face, savoring the taste, "Ohhhh... Shaka... That felt so good... Don't worry... I won't kill you... I keep you forever as my pet... We will play these games till eternity..."
Cleo wets her lips, ready to kiss Shaka's lips, but suddenly, the Gold Saint releases Cosmo Energy from his hands, bouncing off the Lightner!
"What are you doing? Shaka!", shouts Cleo steadying herself!
"I can't stay here!", says Shaka burning his Cosmo to the full, "My mission is not done yet...
"RIKUDOU RINNE!!!!!!!!!!!!!!!!!!!!!!!!!!!!"
This skill in English is Six Worlds Transmigration!! At once, Cleo is sent traveling to 6 worlds: Hell World,
[Jigoku Kai]
Hungry Ghost World, Beast World, Carnage World, Human World, and Sky World!!
[Gaki Kai ] [Chikushou Kai] [Shura Kai ] [Jin Kai ] [Ten Kai ]
Cleo has disappeared! Shaka was about to walk away when he is hit by a Cosmo blast behind him!
"GYAHHHHH!!" screams Shaka! With out the Cloth protection, he is seriously hurt!!
"Ho ho ho ho.... " laughs the Lightner, "You have become weak, my love. In the past that skill alone would defeat me instantly..."
Shaka is in serious pain but he says, "You should have let my skill take you away. I don't want to kill you..."
"What...?" wonders Cleo. Right then, she realizes. She looks down at her Halo and she can see the Mark of the Virgo.
"The Virgo Seal.", says Shaka calmly, "Don't force me to do something I don't want to do..."
"SHAKA! LOVE ME!!"
"No..."
"ARDENT PRESSURE!!!!!!!!!!!!!!!!!"
"KAN!!!!" shouts Shaka and instantly Cleo is bounced back from her own skill!
"TENMA KOUFUKU!!!!!!!!!"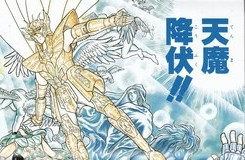 'Tenma' means 'Sky Demon' or The Demon who is directly opposed to the Buddha; 'Koufuku' means 'Surrender' but in Buddhist terms, it also means, 'The Buddha suppressing the demons or put down the demons'
Cleo is hit with this ultimate Cosmo attack from Shaka! She sees a vision of Angels, and a Virgin on a horse floating over skeletons!! The Halo of the Lightner explodes, revealing her nakedness underneath!
She is blown back, landing right next to a dead soul who is been purge by fire but, Cleo's Cosmo Fire is disappearing. She whispers softly, "Shaka... Wh... Why don't you love me...?"
"Cleo...", says Shaka, "You have no right to talk about love..."
[shikaku]
"Then... What is love...?" cries Cleo.
Shaka does not answer immediately. Cleo watches him as he looks toward the Summit of Purgatory with a feeling of longing but at the same time, he seems to be preparing himself for something, finally, Shaka answers, "Love is giving yourself while asking nothing in return..."
Hearing this, Cleo suddenly realizes and she shouts, "Can it be that Shaka will...!!"
[Masaka Shakka wa...!! ]

...

The Five boys are on top of the Hill of Purgatory but are surrounded by over 40 Oracles!

"Pegasus! I praise you for being able to come up here!"
"I remember you! You are..."
"Ha! Yes I am Borak Adad! NOW IS THE TIME I FINISH YOU!! RED GALLOP!!!!!!!!!!!!!!!!!!!!!!!"
[REDO GYAROPPU--------------!!]
Suddenly a diaphanous, red, horse spirit appears! It rushes over and kicks Seiya with its hoofs a million times over!
"GYAHHHHHHHHH!!!!!!", screams Seiya, blown back by the fierce attack! He crashes on the ground full of pain!
"Adad! Where's Metis!?"
The Warrior of Zeus smiles and walks over to stand over Seiya.
"Fine! I'll tell you! The Metis is at the peak of Purgatory, but there's no way you can enter there because...!"
Adad can't finish because he can feel a Big Cosmo approaching Purgatory and he shouts, "IMPOSSIBLE! WHY WOULD THAT GODDESS COME HERE!!!"
"ADAD! THANK YOU!!"
"WHAT!?"
Seiya jumps up and lands behind Adad! He pins the Oracle tight with his arms! He shouts,
"PEGASUS ROLLING CRUSH!!!!!!!!!!!!!!!!!!!!!!!"
[PEGASASU RO-RINGU CURASSHU------------!!]

End of Episode 9.

Episode 10: Athena's Kamui!!
Kamui
[Atena no Shin I:Gods' Cloth!!]

Seiya and Adad blast off the ground, rising tens of meters in the air! They turn and dive back heading to crash to the ground, like the Pegasus Constellation, the upside-down winged horse! Adad impacts the ground, dead! At the same time, Hyoga and Shun is busy with the other Oracles!
"Shun! We can't waste time here!"
"Hyoga! Let's go!"
Both Hyoga and Shun burn their Cosmo to the most! Hyoga shouts,
"KHOLODNYI SMERCH!!!!!!!!!!!!!!!!!!!!!"
[HO-RODONI SUMERUCHI-----------!!]
Out comes a Ice Tornato heading for the Oracles! At the same time, Shun shouts,
[Tsumetai Tatsumaki]
"NEBURA STORM!!!!!!!!!!!!!!!!!!!!!!!!!!!!!!!!!"
[NEBYURA SUTO------------------------MU!!]
Out comes a flowing stream of current heading for the Oracles but suddenly both attacks start to converge! The Ice tornato and the Stream Current is coming together! THIS IS THE PERFECT STORM!!!!!!!!!!!!!!
This awesome attack defeats half of the Oracles! Ikki and Shiryu are also burning their Cosmo! Ikki shouts,
"PHOENIX WING GLIDE!!!!!!!!!!!!!!!!!!!!!!"
[HOU YOKU TENSHOU------------!!]
At the same time, Shiryu shouts,
"ROZAN DRAGON GLIDE!!!!!!!!!!!!!!!!!!!!!!!!"
[ROZAN RYUU HISHOU----------------!!]
A Phoenix and a Dragon is released toward the Oracles but they are flying together! THIS IS THE PHOENIX AND THE DRAGON AS ONE!!!!!!!!!!!!!!
The rest of the Oracles are defeated! Finally, all 140 Oracles in Zeus's army are gone!

...

"What is this?", shouts Seiya. The five have arrived at the peak of Purgatory but they find a Fire Wall surrounding a secret area which bars them from entering.
"We've come too far to quit now!", shouts Seiya, running toward the fire!
"SEIYA!!", shouts Shun in distress! Suddenly, Seiya stops! Someone is holding him back! He looks at the one holding his right shoulder and shouts, "SHAKA!!"
"This is the Ring of Sin!", says Shaka smiling, "No one has ever pass through this Ring..."
Ringu obu Shin
[Tsumi no En:Circle of Sin]
"Then Shaka, what should we...", Seiya can't finish because he just realized Shaka is holding up beads! Those same beads
[jyuzu]
that reflected the deaths of the 108 Specters of Hades!
"There are 108 beads in this string...", says Shaka, "Each of the 108 Beads represents 108 sufferings of mankind, but also
[Hyaku Hachi no Tama]
the 108 sins of mankind!"
"SHAKA!", shouts Seiya, "YOU WILL!!"
[MASAKA!!]
Shaka sits down with crossed legs and he throws the 108 beads in the air! They all seperate and form a circle above the Ring of Sin!
"OM!!!!!!", shouts Shaka, burning his Cosmo to the breaking point! His body starts to bleed all over!
"BREAK! MY LIFE!!!!!!!!!!!!!!!!!!!!!!", shouts Shaka as the 108 beads plunge into the fire! With a massive light
[KUDAKE YO! WA GA INOCHI----------!!]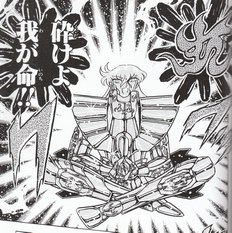 from the beads, the fire is extinguished! The secret area of Purgatory is revealed and Shaka says while coughing blood, "Th...
This is the Divine Forrest... Metis is inside..."
[Shinsei naru Shinrin]
As the smoke from the Ring of Sin disappears, so does Shaka's Cosmo. Ikki comes over and says softly, "Shaka..."
"Ikki..." whispers Shaka, smiling, "The confusion in my heart are all gone now..."
[ mayoi ]
Ikki smiles, too and says, "Thank you for everything... Shaka..."
Finally, the last Gold Saint is gone. Ikki, Seiya, Shiryu, Hyoga, and Shun close their eyes and remain silent for a moment to remember all the Gold Saints that had fought for Love and Justice and Peace...

All five boys run into the Divine Forrest, arriving in the center but all they find is a giant tree.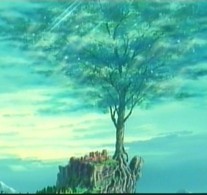 "Where's Metis!?", shouts Seiya in distress!
"SEIYA! I just realized!", shouts Shun, "Metis in Greek means, 'Wisdom'!"
[ Chie ]
"You mean!", says Seiya in shock, "This giant olive tree is Metis!?"
"YES!!", comes a voice! The four boys shout, "ATHENA!!"
"SAORI!!", shouts Seiya. The Goddess shows up smiling holding something in her right hand. Seiya looks and it is Athena
[SAORI SAN!!]
Statue shrunk in a miniature size!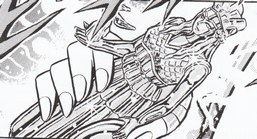 Athena walks to stand under that massive tree and places the small Athena Statue inside an opening in the trunk of Metis!
Suddenly, there is blinding light and the olive tree starts to disappear! As the light dies down, the Bronze Saints can see Athena is wearing something! IT IS ATHENA'S KAMUI!!
One of the 12 Kamui of the Olympus Gods has resurrected! Since the time of the myths, Athena,
the Goddess of War and Wisdom has awakened her ultimate battle gear!
[Tatakai to Chie no Megami ]
"SINCE THE TIME OF THE MYTHS, I, ATHENA WEAR MY KAMUI!!", says Athena for final emphasis!
ATENA
[ATENA SHINWA NO JIDAI YORI MEGAMI NO KAMUI SOUCHAKU!!]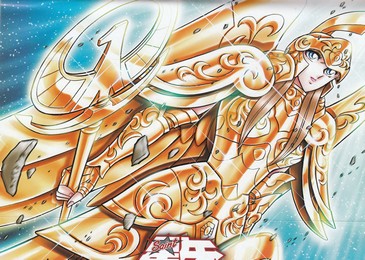 All five boys are in shock to what just happened. Suddenly, Athena raises her cane and a light is directed to the sky and a portal is revealed!
"That is the Way to Olympus!", says Athena, "But before you go, I must tell you, the power of the Olympus Gods are way
[Sore wa Orinposu e no Michi!]
beyond your imagination. Not only because they are wearing the Kamui, the Garment of the Gods but also because they
[ Kami no Koromo:Cloth ]
understand the 'Ee-eh Pa-ee-an!'"
"Ee-eh Pa-ee-an!", shouts Seiya, "Those are the lyrics sung by some of the dead souls here!"
"Yes! Seiya.", says Athena smiling, "According to Legend, when Apollon was still dewelling on the land, he sung these very lyrics and those who heard it became Gods in an instant and they all rose to Olympus! This happened because they awakened, The Spark of God!"
[Kami no Hibana! ]
"The Spark of God?"
"If the Cosmo is considered the Small Will... The Spark of God is considered the Big Will..."
[Sumo-ru Uiru] [Biggu Uiru]
"THE BIG WILL!? CAN IT BE!"
"YES! THE NINTH SENSE!! AWAKEN THE NINTH SENSE AND YOU CAN CHALLENGE THE GODS!!"
[NAIN SENSHIZU!!]
Athena, pausing a moment to let this sink in!
"GO! MY SAINTS! WHEN YOU ENTER OLYMPUS, YOU WILL BE SEPARATED BUT, WE WILL HEAD FOR
ZEUS TEMPLE AND MEET BACK THERE, EVERY SINGLE ONE OF US!!"
[ZEUSU SHINDEN]
All five Bronze Saints suddenly spread wings on the back of their Cloths, lifting off and was about to enter the portal when suddenly, a Big Cosmo is approaching in that portal from Olympus!
"This Cosmo!!", says Seiya, "I felt it when I was fighting Adad!!"
In a flash, the Big Cosmo lands opposite of Athena! A woman is wearing one of the 12 Kamui, focusing all her attention at the Goddess of War and Wisdom!
THAT WOMAN IS THE GODDESS OF HEAVEN, HERA!!!!!!!!!!!!!!!!!!!!!!!!!!!!

End of Episode 10.

PREVIEW:

HERA! THE GODDESS OF THE SKY!!
ATHENA! THE GODDESS OF THE LAND!!
WITH THEIR FIGHT, THE GODS' HEATED WAR BEGINS!!

Saint Seiya The Zeus Chapter - Olympus
[Zennoo Shin Zeusu Tenkai Hen
Almighty God Zeus Sky World Chapter]

Episode 11: Hera! The Queen of Heaven!!
[Hera! Tenjyouoh:Sky Queen!!]
12: Athena! The Time of Promise!!
[Atena! Yakusoku no Toki!!]

HAVE YOU EVER FELT THE COSMO OF ZEUS!?
KIMI WA ZEUSU NO KOSUMO WO KANJITA KOTO GA ARU KA!?