Episode 13: Apollon and Artemis!!
Aporon Arutemisu
[Taiyoushin:Sun God to Tsukishin:Moon God!!]
Traveling beyond how many tens of billions of light...
Passing through how many hundreds of billions of darkness...
Before long, you arrive at that world.
Beyond the river Enuoe, the far upper stream of the four rivers of Purgatory, the infinite world.
After death, a Paradise where only the pure can enter.
Paradaisu
Shinraku
[God Happy]
No hunger, No strife, No pain, No sadness...
Released from all sufferings and desires, the eternal Plains...
Shin do
[God Earth]
The realm where beings can dwell with the Gods.
THE REALM CALLED, OLYMPUS...!!
...
In this realm, there are actually 8 worlds, with an Olympus God governing each, and in the center surrounded by the 8 worlds is Mt. Olympus. At the peak, there is...
Zeus Temple.
[Zeusu Shinden]
"Hmm....", groans Apollon, standing in front of Zeus's grand Temple where many structures are built, "Just now, Hera's Cosmo has completely disappeared... Even a Goddess as powerful as Hera has been defeated..."
Suddenly there is a voice, "As expected, we can't underestimate Athena and her Saints..."
"ARTEMIS!!", groans Apollon. Apollon and Artemis are each wearing their Kamui with clothing bound to them. They may be twins but there are distinct differences, while Apollon has stranded, medium length red hair, sparkling orange eyes, Artemis has long flowing yellow hair, and piercing green eyes.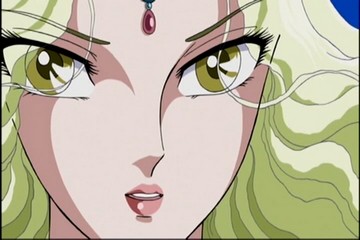 "Apollon... You should have listened to me. I should have come down with you Below to take care of Athena and
[Gekai]
Poseidon... Why did you let Hera go alone...?"
"Artemis... Do you think a Goddess like her would ever listen to me... She always detested my presence in Olympus and yours, too, remember...?"
"Yes... But now with the annihilation of the 140 Oracles, for Hera to die, it is regrettable..."
[Ten Toushi]
"Ha! What do you mean regrettable? The Oracles are just servants to us Gods... As for Hera, she would have taken any chance to rebel against Zeus, it is fitting she got destroyed by Athena. It just leaves us to take care of Athena, herself now..."
"Yes, but Apollon... What are you really saying? There are others who would rebel against Zeus...?"
"If I am not wrong... That God is...UH!", suddenly, Apollon feels a strong Cosmo!
"MUH!", Artemis feels it too, "A terrible, strong Cosmo is approaching Olympus!! Toward... THE PARADISE OF..."

At the Paradise of Faith, only those souls who lived their lives never once losing their Belief in God, even seeing the
Paradaisu
[Shinnen no Shinraku]
sufferings of the world or even losing a love one to death and after the Purging of Purgatory, gaining Devotion, they can enter this Paradise. At the center of the Paradise, there is...

Hercules Temple.
[Herakures Shinden]

"Hera's Kamui has returned from Purgatory to her Paradise of Prudence which she governs...", says Hercules who is
Rentou Kai Paradaisu
[Purgatory World] [Shinchou no Shinraku]
wearing a Kamui, "But why do I still feel this weird Cosmo!?"
Suddenly a voice is heard, "Great Might God, Hercules... It has been too long..."
[Dai Ryoku Shin]
Hercules looks and he sees, "SEA KING POSEIDON!!"
Julian Solo is wearing Poseidon's Scale, smiling, facing the Olympus God.
"Why have you come here?"
"Hercules... You of all the Gods know, why I came. I do not intend to fight you. Come! Join with me to stop Zeus now!"
"Why should I? I have no problem with Zeus's Plans..."
"Ha! So... This is what you have become... After staying in Olympus for so long, you have forgotten where you came from..."
"POSEIDON!", shouts Hercules suddenly filled with anger, "IF YOU DON'T WATCH YOUR TONGUE, EVEN YOU WILL LOSE YOUR LIFE!!"
"NO! IT IS YOU WHO SHOULD RECONSIDER YOUR POSITION!! HERCULES!! WEREN'T YOU THE
VICAR OF ZEUS! WEREN'T YOU THE OLYMPUS GOD WHO PROTECTED THE LAND BEFORE
Bika-ru
[Zeusu no Chijyou Daikousha]
Land Deputy
ATHENA!!"
Both stare at each other for a moment to calm things down.
"Yes...", says Hercules coldly, "In the time before we Olympus Gods disappeared to the Sky, you, Poseidon, ruled the
Sea World, Hades ruled the Underworld, and Zeus ruled the Sky World. The Land World was shared by all. And when
[Kai kai] [Meikai] [Ten kai] [Chijyou kai]
Zeus dwelled in Heaven I was in charge of protecting the land...
"However, now that we have come upon this time, the Earth is not worth protecting... You of all the Gods know, it is filled with desire, hate, jealousy, and all kinds of evil... A Great Cleansing must be carried out..."
"Then... There is nothing to talk about..."
Poseidon starts to burn his Cosmo, injecting it in his Three-Pronged Halberd!
[Mitsumata no Hoko]
"DIE! HERCULES!!!!!!!!!", shouts Poseidon, releasing a great flow of Cosmo! The blast hits Hercules who takes the full impact of the blow! His helmet of his Kamui flies away, but the attack didn't kill the once Olympus God of the Land, instead, a
[masuku]
small stream of blood flows down from his forehead.
"Indeed Poseidon...", says Hercules, calmly, "Just wearing your Scale, you have hurt me this much. If you were wearing
[Sasu ga Poseidon...] [Rin I]
your Kamui, we would be evenly matched. Maybe, if I wasn't careful I would definitely be defeated by you..."
"MUH!!", groans Poseidon who sees Hercules suddenly raise a weapon in his right hand! It is a Double-Axe! The Great
[Sou fu]
Might God throws the weapon flying toward Poseidon!
The axe with two edges hits Poseidon in the stomach and at the same time, his whole Scale is pulverized into nothing!! Poseidon's Halberd drops to the floor with a clang!
The Axe returns to Hercules as Poseidon falls to ground filled with pain, bleeding badly from the stomach. Hercules walks to stand over Poseidon, ready to give him the killing strike!
"DIE! POSEIDON!!!!!!!!!!"

End of Episode 13.

Map of Olympus(Tenkai - Orinposu Ezu)

1. Paradise of Courage
2. Paradise of Hope
3. Paradise of Moderation
4. Paradise of Justice
5. Paradise of Honor
6. Paradise of Faith
7. Paradise of Love
8. Paradise of Prudence
9. Mt. Olympus
Zeus Temple
10. Conference Room
11. Audience Chamber
12. Judgement Room
Episode 14: Shock! The 12 Kamui!!
Kamui
[Odoroki! 12 Tai no Shin I!!]
"DIE! POSEIDON!!!!!!", shouts Hercules, swinging down his axe to cut Poseidon's head off! BUT RIGHT THEN!!
"WAIT HERCULES!!", comes a voice. Hercules is surprised to see Andromeda Shun!! Shun walks to kneel down along the side of Julian.
"Athena's Saint came to help Poseidon...?", says Hercules with irony, "YOU WILL DIE FASTER THAN THE SEA KING!!"
The Olympus God was about to raise his axe when Shun shouts,
I DON'T LIKE THIS FIGHTING SO STEP BACK!!"
[YO WA TATAKAI WO KONOMANU HIKAE YO!!]
"No!", shouts Poseidon, all of a sudden, "This is not Andromeda!"
Hercules can feel a Cosmo that can rival Zeus's, "CAN IT BE! CAN IT BE!! HADES HAS POSSESSED ANDROMEDA AGAIN!!! THE WEIRD COSMO I FELT WAS YOURS! HADES!!"
"I never thought I would meet you again in this fashion...", says Shun. No! Even Shun's voice has changed to that of Hades! He stands Dignified and Holy, befitting of a Underworld King!
[Igen] [Shinsei]
"What do you plan to do?", asks Hercules.
"After the war with Athena..." answers Hades, "I traveled the universe for a long while but suddenly I felt Zeus's Cosmo expanding and I knew what he was planning to do... I come here with the same objective as Poseidon... Like I told you before I don't like to fight. Join us to stop Zeus, Hercules! This time it is not just Athena and Poseidon, I will stand with them too!"
"Like I said already, Zeus is doing exactly what he should be doing...", says Hercules, bringing up his axe! He sends a Cosmo blast toward Shun and his whole Andromeda Cloth is destroyed totally! Shun falls down but he is not dead.
"It took me even less effort to destroy that Saint's Cloth, Hades!"
But suddenly, Hades stands back up and what's more interesting, Shun's flaxen hair is turning into black!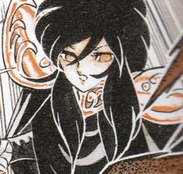 "Ha!", laughs Hercules, "So you finally destroyed that Saint's soul yourself...?"
"No...", says Hades, "This time, Andromeda let me possess him fully..."
"What?"
Right then, Poseidon also stands back up.
"Stop it! Both of you! As long as I am wearing my Kamui, even if you join together, you are no match to me... Besides, Your bodies are borrowed from these mortals."
Both Poseidon and Hades are silent as Hercules continues, "Hades your real body was destroyed in that final battle with Athena... And as for you, Poseidon! Do you think I do not know!! YOUR REAL BODY WAS DESTROYED IN THAT LAST POSEIDON WAR FEW THOUSAND YEARS AGO!! THAT IS WHY YOU HAVE CHOSEN TO SLEEP ALL THESE GENERATIONS AND NOT FIGHT ATHENA!!!!"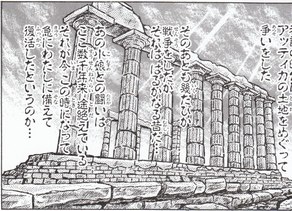 "Yes.", says Poseidon, "In the Previous War before the Last, Athena's Saints found out my real body resided under the Mediterranean Sea, finally in that Last War, Athena and her Saints fought me and my Marinas in my above ground Temple and also in the Undersea Temple.
"The War ended with my real body destroyed and my soul sealed in Athena's Jar... But, like I said before I do not want to fight you... However, there is one thing we can do..."
"What!?", shouts Hercules who sees something appearing! It is the Sword of Hades!! Poseidon also bring back his
Halberd!! [Ken]
"HERCULES! WE WILL SEAL YOU!!"
"WHAT!?"
"BY BOTH OUR POWERS, WE CAN SEAL YOU FOR GOOD!!"
Both Hades and Poseidon burn their Cosmo where all of Heaven can feel! Hercules shouts, "I WON'T LET YOU DO THAT TO ME!!"
He burns his Cosmo injecting it in his Axe! Suddenly, all three Olympus Gods throw their weapons!! With that collision, a BIG BANG has occurred!!
POSIEDON, JULIAN, HADES, SHUN, HERCULES ARE ALL GONE!!

Meanwhile at the same time, in Zeus Temple, Apollon and Artemis can feel the Big Wills of the Olympus Gods colliding and suddenly, they feel Cosmos approaching Olympus! Two shooting stars are traveling at incredible speed finally entering Zeus Temple!
At that moment, all of Olympus can hear a sound. NO! AN ECHO!!
"WHAT!?", shouts Apollon.
"WHAT IS THIS ECHO!?", shout Artemis.
"EACH OF THE KAMUI ARE CALLING EACH OTHER!?"
"THIS IS THE PROOF THAT ALL THE KAMUI HAVE COME TOGETHER IN HEAVEN!?"
Both run along the walkway of Zeus Temple and they see in front of the structure called, Conference Room, Poseidon's
[Soutan no Ma]
Kamui, and in front of the structure called, Audience Chamber, Hades's Kamui!
[Ekken Shitsu]
"IM! IMPOSSIBLE!", shouts Apollon!!

THE 12 KAMUI!!

1. THE KAMUI OF THE ALMIGHTY GOD!!
2. THE KAMUI OF GOD OF DEATH AND UNDERWORLD!!
3. THE KAMUI OF GOD OF THE SEAS AND SEA WORLD!!
4. THE KAMUI OF GODDESS OF WAR AND WISDOM!!
5. THE KAMUI OF THE GOD OF THE SUN!!
6. THE KAMUI OF THE GODDESS OF THE MOON!!
7. THE KAMUI OF THE GODDESS OF LOVE!!
8. THE KAMUI OF THE CRAFTSMANSHIP GOD!!
9. THE KAMUI OF THE SKY PILLAR GOD!!
10. THE KAMUI OF THE PROPHECY GOD!!
11. THE KAMUI OF THE HEAVEN QUEEN!!
12. THE KAMUI OF THE GREAT MIGHT GOD!!

"AFTER ALL THIS PASSAGE OF TIME, NOW, NOT JUST ATHENA'S KAMUI, ALL 12 KAMUI HAS
[IKU SEISOU WO KOETE ]
GATHERED IN OLYMPUS!!"
"HOW IS THIS POSSIBLE!?", shouts Artemis, "EVEN BEFORE THE DISAPPEARANCE OF ATHENA'S KAMUI, SINCE THE TIME OF THE MYTHS, THE KAMUI OF POSEIDON AND HADES HAVE BEEN MISSING!!"
"UH!?", groans Artemis again!
"MUH!?", groans Apollon again, "This Cosmo!"
"There are Cosmo heading for the Paradises of Olympus!", shouts Artemis.
"It! It is Athena's other Saints!", shouts Apollon, "Artemis! We'll talk about all this later! Return to our respective Paradises!! We can't let Athena or her Saints approach Zeus Temple!!"

Seiya is breathing hard finally reaching Olympus. He looks around and it feels very familiar.
"This place feels like Elysion of the Underworld...", says Seiya, "But what is this place...?"
He looks around and finally finds someone and asks, "Where am I?"
That someone looks at him in shock and shouts, "How can someone like you filled with blood, swirt and dirt come to Olympus!?"
Another beings comes and says, "You look almost like a Glutton of Hell!!"
[Jigoku no Shura]
"Please...", says Seiya, "Where am I?"
"You...", says the soul who is about to answer when he is shocked to see behind Seiya, there is!!
"Ha!", laughs the one appearing, "Don't trouble the souls here. Only the ones chosen by the Gods can enter here..."
Seiya turns and he shouts, "You... You are...!!"
"MY NAME IS APOLLON!!"

End of Episode 14.

PREVIEW:

What is the real power of Apollon?
Who was that Pegasus Saint who wounded Hades in the Time of the Myths?
And, what are the secrets hidden in mythology?

Saint Seiya The Zeus Chapter - Olympus
[Zennoo Shin Zeusu Tenkai Hen
Almighty God Zeus Sky World Chapter]

Episode 15: God Cloth vs. Kamui!!
Goddo Kurosu Kamui
[ Shin Sei I:God Sacred Cloth tai Shin I:Gods' Cloth!!]
16: Pegasus! Beyond Mythology!!
Pegasasu
[Ten Ma:Sky Horse! Shinwa wo Koete!!]

HAVE YOU EVER FELT THE COSMO OF ZEUS!?
KIMI WA ZEUSU NO KOSUMO WO KANJITA KOTO GA ARU KA!?