Episode 15: God Cloth vs. Kamui!!
Goddo Kurosu Kamui
[ Shin Sei I:God Sacred Cloth tai Shin I:Gods' Cloth!!]
Realizing it is the God of the Sun Apollon, Seiya suddenly rises with anger!
"So... you're Apollon... YOU'RE THE GOD WHO TRIED TO KILL SAORI!!", shouts Seiya, sending a punch toward Apollon! It hits the Sun God's face but Apollon just stand there as if nothing has happened!
"Not here...", says Apollon, calmly.
"What!?", shouts Seiya, taking his punch away from Apollon's face.
"You are in the Paradise of Moderation. Those who have lived their lives without excess, with well tempers, and passed the
Paradaisu
[Tekido no Shinraku ]
Purging of contemplating the Matters of God can enter here... Pegasus! You can come to my Temple!"
[Pegasasu yo! Watashi no Shinden ni kuru ga ii!]
Inside Apollon Temple, there is...
[Aporon Shinden]
"PEGASUS SHOOTING STAR PUNCH!!!!!!!!!!!!!!!!!!!"
[PEGASASU RYUU SEI KEN------------------!!]
A million punches at light speed are heading for the God of the Sun, hitting him fully but again, Apollon stands there as if nothing has happened!
"Is that enough...?", asks Apollon, "Control your anger, Pegasus... Are you that mad at me?"
"EVEN IF SAORI IS GOING AGAINST ZEUS, IT'S NOT RIGHT FOR A MAN TO HIT A WOMAN!!"
[TATOE SAORI SAN WA ZEUSU NI SAKARU ONNA NO HITO NI KEN WO FURUTTE NAN NI NARU!!]
Seiya sends his Shooting Star Punches at Apollon again!
"EIH!", groans the Olympus God, out comes a blast from his hand! All the punches return to Seiya!
"GWOHHHHHHHH!!!!!!!!!", screams Seiya crashing to a wall in the Temple. He is stuck there for a second and lands back to the ground. Full of pain, the Pegasus Saint stands back up, realizing continuing this kind of fight will not make any difference.
"Fine, Pegasus... I'LL KILL YOU WITH ONE STROKE!!", shouts Apollon growing angry himself, sending a giant Orb of Cosmo toward Seiya! Seiya raises both his hands and catches the Orb which pushes him backward with his feet dragging on the ground!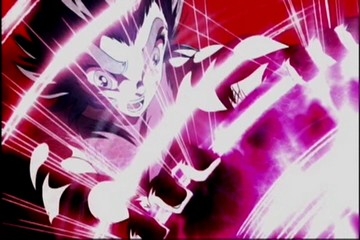 "It's useless!!", shouts Apollon, "Your hands will be torn to pieces and your whole body will be blown to nothing!"
"BURN! MY COSMO!! WOHHHHHHHHHHHHHHHHH!!!!!!!!!!!!!!", shouts Seiya, burning his Cosmo
[MOERO! ORE NO KOSUMO YO!! UO-----------------------------------------!!]
to the ultimate, "ONE MORE TIME!! THAT ULTIMATE POWER!!"
MOU ICHI DO!! SONO KYUUKYOKU NO CHIKARA WO!!]
"MUH!!", groans Apollon. Suddenly he sees Seiya's Cloth go up in flames with a weird sound,
"TH... THAT IS!! PEGASUS GOD CLOTH!!
Goddo Kurosu
[A... ARE WA!! PEGASASU NO SHIN SEI I!!]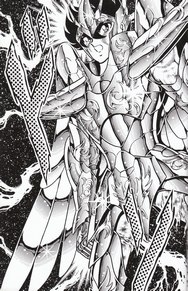 Seiya again is wearing his God Cloth! Suddenly, Apollon's Orb disappears between the palms of Seiya!
"WHAT!?", shouts Apollon! Right then, Seiya shouts again,
"PEGASUS SHOOTING STAR PUNCH!!!!!!!!!!!!!!!!!!!"
[PEGASASU RYUU SEI KEN------------------!!]
Up to this point, none of Seiya attacks even scratched Apollon but now with millions of much stronger punches hitting the Sun God, he is blown away! He crashes few meters away and his headpiece flies, disappearing out of the Temple!
As Apollon slowly stands back up, Seiya is in fighting pose, ready for the Sun God's angry counter attack. The Sun God starts to rise with Cosmo, "FINE! I'LL SHOW YOU THE REAL POWER OF THE SUN!!
[YOKAROU! TAIYOU NO SHIN ON CHIKARA WO MISETE YAROU!!
"SOLAR WIND FLARE!!!!!!!!!!!!!!!!!!!"
[SO-RA- UINDO FUREA--------------!!]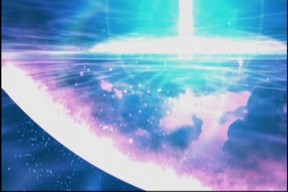 Behind Apollon, an image of the Sun hangs in space, strong Solar Winds starts traveling through out the cosmos, finally arriving on the Earth! Seiya is hit!
"GAHHHHHHHHHHHHHHHH!!!!!!!", screams Seiya! His body is burst in a blaze as the intense fire erodes his body, eating up every cell, finally, only the God Cloth remains! The God Cloth falls to the ground without an owner!!
Apollon walks over to look at the Noble, Divine, God Cloth. For some reason, he is staring at it, deciding on something.
[Kedakai Kougoushi]
Finally when he was about to do something the God Cloth disappears! From behind, Seiya is holding him tight!
"WHAT!?", shouts Apollon, looking back at Seiya who's still wearing his God Cloth!
"APOLLON!! AS LONG AS THIS GOD CLOTH IS HERE, I WON'T LOSE!!
[APORON!! KONO GODDO KUROSU GA ARU KAGIRI, ORE WA ZETTAI MAKENAI!!
TAKE THIS!! PEGASUS ROLLING CRUSH!!!!!!!!!!!!!!!!!!!!!!"
[KURAE!! PEGASASU RO-RINGU CURASSHU------------!!]
The Sun God and the Pegasus Saint are sent flying, blasting out of Apollon Temple, creating a large hole on the ceiling! They rise hundreds of meters above the Paradise of Moderation! Turning back, passing through that hole, Apollon crashes to the ground as Seiya jumps away!
Kneeling, Apollon wonders, "How did he dodge my S. W. F.?"
[So-ra- Uindo Furea]
"When you used that Orb to kill me, I already seen your speed!"
"Really!! In the past, it was only in rare instances but finally his God Cloth helped him to reach God Speed!!"
Goddo Supi-do
[Shin Soku]
Apollon stands back up and he looks carefully at Seiya's face, finally he says, "So... This is the face of Beller..."
"Wh... What?", says Seiya, "What did you just call me?!"
"I SAID BELLER! BELLEROPHON!! THE PEGASUS SAINT WHO WOUNDED HADES!!"
Be-rarofuon
"Bellerophon...?", Seiya says to himself, suddenly it hits him! He remembers what Marin taught him in her lessons, "In Greek Mythology Bellerophon was allowed to ride Pegasus with the help of Athena. Fighting on that Winged Horse, he defeated the fiery Chimaera, a gathering of Giants, a group of violent Solymians, and a band of Carian pirates. But because he tried to ride to Heaven, the Gods made Pegasus throw him to his death and Pegasus alone flew to Heaven..."
"Ha!", laughs Apollon, "That's what your human mythology passed down, but, it's more complex than that..."
Seiya is confused for a moment suddenly he realizes, "YOU MEAN!?"
"YES! THAT MYTHOLOGY HIDES THE TRUTH OF THE HOLY WARS OF ATHENA!!"
Seiya is speechless and Apollon continues, "After the Sinking of the Mu Continent, Hades saw an opportunity to defeat Athena, but she still had 77 Saints. And, Hades would only rise out of his Underworld when he knows for sure he will win, so, he first brought the Gigas Giants to fight with Athena. After Gigantomachia, 58 Saints were left.
[Giga-su Kyojin Zoku] Gigantomakia-
[Kyojin tono Tatakai]
"One month later, Hades convinced Ares to fight with Athena. During the fight with the Berserkers, Hades started setting up
Aresu Ba-sa-ka-
[Senshin:War God] Kyou Toushi
[Crazed Fighter]
his base of operation on the land. 28 Saints survived the fight with the War God, but the very next day Hades sent his Specters to attack Sanctuary...

End of Episode 15.

Episode 16: Pegasus! Beyond Mythology!!
Pegasasu
[Ten Ma:Sky Horse! Shinwa wo Koete!!]

"It was one of the most intense fights ever seen. Athena and her Saints fought hard and did not lose easily. With half of Hades army destroyed, Athena sent her Saints to attack Hades in his land base. After a fierce fight, with most of the Specters and Saints defeated, Athena went to attack Hades himself in his land base.
"Wearing her Cloth, Athena defeated Hypnos and Thanatos but was seriously injured. Hades took this opportunity, and wore his Surplice to kill Athena once and for all but a Pegasus Saint named Beller rushed there and used his body to protect the bleeding Athena. Hades was about to kill the Pegasus Saint when the blood of Athena dripped on Bellerophon's damaged Cloth, the Cloth suddenly resurrected and became a God Cloth! The First God Cloth ever created in front of Hypnos's and Thantaos's eyes.
"With this new power, Bellerophon went to attack Hades and wounded him badly. Hades finally decided to retreat back to Elysion but the angry Pegasus Saint did not let up. Athena tried to stop him but it was too late, Hades filled with anger himself, killed Bellerophon, and finally, The First Hades Holy War ended..."
[Dai Ichi Ha-desu Seisen ]
Seiya is speechless. Apollon breaks the silence, "Bel... No! Seiya. You're very dependent on your God Cloth, yes..."
This wakes Seiya, "What?"
"Did you forget the end of the myth? The Winged Horse, Pegasus flew to Heaven..."
"Wh...!?", Seiya can't finish because suddenly, Apollon starts to burn his Cosmo!
"SEIYA! THE FINAL SECRET IS THIS! IT WAS I WHO DESTROYED THE PEGASUS GOD CLOTH!!"
Apollon starts to expand his Cosmo where all of Heaven can feel. Seiya can't help but shake all over. For the first time, he feels fear! FEAR OF DEATH!!
"SUN BEAM DESTROYER!!!!!!!!!!!!!!!!!!!!!!!!!"
[SAN BI-MU DESUTOROIYA-------------------!!]
As if Seiya has been thrown right in front of the Sun, all the rays of light passes through him! In an instant, his whole God Cloth explodes!
Gammanion? Orichalcum? Star Dust Sand? Athena's Blood? Whatever!! ALL OF IT IS GONE!!
"IM IMPOSSIBLE!!!!!!!!!!", screams Seiya in shock, "THE ULTIMATE GOD CLOTH WOULD BE COMPLETELY SHATTERED IN AN INSTANT!!!!!!!!!"
Without any protection, Seiya is likened to be naked. He stands there as the last traces of the Cloth disintegrate. He has already taken one step into death but he asks, "If... If you were the one who destroyed Bellerophon's Cloth, wh, what was the Pegasus Cloth I always worn...?"
"Ha!", laughs Apollon, "Fine... This is my gift for your parting. After the War with Hades, many Saints, many Cloths were lost. Those who survived the War gathered whatever was left and those Cloths were restored later. Your Cloth, however was completely destroyed, but Athena urged the left over Mu Alchemists to construct a New Pegasus Cloth. In other words, the Cloth you were always wearing was actually a Second Pegasus Cloth!!"
[Dai Ni Ten Ma Sei I!!]
Seiya has nothing to say. Apollon walks over to stand in front of him, "There will be no Athena's Spring... There will be no AMBROTOS ZONTANOS... Pegasus Seiya... GOOD BYE!!!!!!"
With one fine punch, Apollon drives his right fist into Seiya's heart! Blood burst out like a geyser and Seiya falls with his heart stops beating!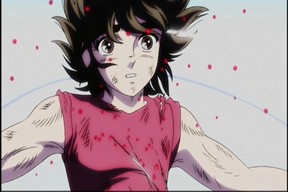 Meanwhile, Hyoga has just entered Paradise of Courage. He shouts,
"WH.. WHAT! SEIYA'S COSMO HAS DISAPPEARED!!"
[NA.. NANI! SEIYA NO KOSUMO WA KIETA!!]
Shiryu has just entered the Paradise of Honor. He shouts,
"IM.. IMPOSSIBLE!! SEIYA'S LIFE HAS BURNED OUT!!"
[BA.. BAKA NA!! SEIYA NO INOCHI GA MOETSUKITA!!]
Ikki has just entered the Paradise of Justice. He shouts, "SEI!! SEIYA!!!!!!"
Saori is about to leave the Paradise of Prudence. She shouts,
"SEI... SEIYA... SEIYA IS DEAD!!"
[SEI... SEIYA GA... SEIYA GA SHINDA!!]
"Hmm...", moans Apollon, "Athena is leaving Hera's Paradise and she is about to climb Mt. Olympus.... Ha! Okay then..."
Apollon starts walking out of his Temple and was about to step out when there is a voice!
"Stop!!"
[Mate!!]
Apollon turns and shouts, "What was that?"
"Like I said to you before, you can't hurt Saori!"
"This voice...? SEIYA!?", shouts Apollon but he checks on Seiya's body. Seiya's body is truly dead. Apollon doesn't understand this and says to himself, "Can... Can it be, even though he is dead, because of his stubbornness to protect Athena, his soul is still dwelling here? But that's impossible I made sure his Eight Sense was also completely destroyed and even if he had what little left of the Eight Sense, his soul should have been taken by..."
"Apollon... I won't let you leave here!"
"It's useless! Pegasus! You can't do..."
[Mou nani mo...]
Apollon can't finish because suddenly, he feels Seiya's Cosmo! Suddenly, the hole he created on Seiya's chest is starting to close!
"IM IMPOSSIBLE!!", shout Apollon, "THIS KIND OF THING CAN'T HAPPEN FOR A...!!"
[BA BAKA NA!! NINGEN TOSHITE KONNA KOTO GA HAZU WA...!!]
And in a instant, there is a sound, a heartbeat!
"CAN IT BE! CAN IT BE! SEIYA HAS REACHED THE SOURCE OF LIFE!! IN OTHER WORDS, THE NINE SENSE!!" [INOCHI NO MINAMOTO!!]
Seiya is breathing again! His body is fully resurrected, filled with life! His Cosmo returns with a blaze that burns beyond the way he has burned it before!
"How is this possible!?", wonders Apollon.
Seiya stands back up, finally speaks with his own mouth again,
"APOLLON!! EVEN IF MY BODY IS BROKEN INTO PIECES, MY WILL IS IMMORTAL!!"
[APORON!! TATOE KARADA WA KONAGONA NI KUDAKEYOU TO ORE NO ISHI WA FUMETSU DA!!]
Apollon finally realizes, "Seiya was dead. His Eight Sense was gone... For any other person, he should have ceased to exist but somehow Seiya's Will and Cosmo joined with the Big Will! By reaching the Big Will, through the Source of Life he resurrected!!"
Apollon finally calms himself and says, "Seiya! Though you have fully awakened the Nine Sense! It is still the same. You are not wearing any protection and I am wearing the Kamui! You can't win!!"
Apollon starts to burn his Cosmo and Seiya can see an image rise behind Apollon: Angered by the death of Aesculapius, Apollon used all his power to kill the Cyclopes, the builders of the weapons to the gods!
"SUN BEAM DESTROYER!!!!!!!!!!!!!!!!!!!!!!!!!!!!"
[SAN BI-MU DESUTOROIYA-------------------!!]
A giant orb of burning Cosmo comes, as if Seiya is thrown into space, facing the real Sun!
"MY COSMO!! MY NINE SENSE!! EVEN IF IT IS JUST A LITTLE MOMENT, MAKE MY COSMO ABOVE APOLLON!!"
Seiya runs and jumps, dodging all the Sun God's most powerful light!! He looks down and shouts,
"TAKE THIS APOLLON!! MY MOST POWERFUL ATTACK AND DIE!!!!!!!!!!!
[KURAE APORON!! ORE NO SAIKYOU NO WAZA WO!! SOSHITE SHINE!!
PEGASUS COMET PUNCH!!!!!!!!!!!!!!!!!!!!!!!"
PEGASASU SUISEI KEN---------------------!!]
Seiya's super punch descends directly down toward Apollon, as if a super large Comet is hitting the core of Sun!!
"GYAHHHHHHHHHHHHHHHHHHHHH!!!!!!!!!!!!!!!", Apollon is sent flying, disappearing out of his Temple! Almost as if he blown by the force of the attack making him travel around our Solar System and finally he returns, crashing to the ground!!
Seiya starts walking out of the Temple, ignoring the Sun God lying on the floor. He steps out. Apollon with his last breath looks towards Seiya. The sunlight shining on Seiya's head is like a halo. Apollon finally says to himself, "Really... Seiya will..."
[Sou ka... Seiya wa...]
End of Episode 16.
PREVIEW:
Hyoga confronts the God who governs the Paradise of Courage.
He has a power even Zeus or Hades don't have, it is!!
HYOGA!! AWAKEN THE MYSTIC ZERO!!
Saint Seiya The Zeus Chapter - Olympus
[Zennoo Shin Zeusu Tenkai Hen
Almighty God Zeus Sky World Chapter]
Episode 17: Unlimited Cold Power! Mystic Zero!!
[ Mugen no Touki:Cold Air! Seima Reido!!]
18: The Messenger of Death and Sleep!!
[Shi to Nemuri no Shisha!!]
HAVE YOU EVER FELT THE COSMO OF ZEUS!?
KIMI WA ZEUSU NO KOSUMO WO KANJITA KOTO GA ARU KA!?