Episode 13: Speed beyond Light!!
[Kousoku Ijyou no Spi-do!! ]

Sanctuary.
Shaina is standing in the Cemetery of Sanctuary, wearing her Ophiuchus Silver Cloth. She is surround by the headstones of
[Irechi ] Opyukusu
[Hebi Tsukai Seiza:Serpent Bearer Constellation]
Saints who have given their lives to protect Peace, Love, and Justice. The headstones has the names, rank, and constellation inscribed on it.
Most of the gravestones has the words, 'SILVER' and 'BRONZE' etched, but Shaina is standing in front of one that only has a name engraved, 'CASIOS', Casios, her pupil, Casios, who lost the Pegasus Cloth to Seiya, Casios, who was killed by...
A lighting bolt strikes the ground and a man appears and introduces himself,
"Domination, Ogo, Loke. One of the 9 Thunderas."
Domine-shon O-go
[Shu Tenshi:Master Angel] [Sairou:Jackal]
"A while ago...", says Shaina, "A group of powerful Cosmo descended right in front of 12 Temples, bypassing the
Defensive Fields around Sanctuary..."
[ Kekkai ]
Hearing these words, Loke smiles, "Yes... Although we, Oracles, aren't powerful enough to descend right into Athena Temple, the Defensive Fields of Sanctuary is no trouble... So, you must be angry that you missed a fight? Don't worry! I'll play with you..."
"No.", says Shaina, "I'm not your opponent, today..."
"What!?", shouts Loke, angrily.
"You're opponent is me!", shouts a voice. Loke looks over to the source of that voice and he sees,
Leo, Aiolia!
Reo
[Shishi Za:Lion Constellation]
"Impossible!", shouts the Ogo Thundera in distress, "The Gold Saints are dead! How could you be alive!?"
3 Weeks Ago.
[San Shuu Mae]
"SEIYA!! IT'S ME!! SHAINA!!!!!", shouts the female Saint. Shaina is holding the Pegasus Saint, but he is not answering. He just stares blankly, almost as if he has no soul.
"It's useless...", says a man.
"WHAT!?", shouts Shaina.
"Athena's Spring can heal wounds and restore the life force of Saints, but it can't help Seiya..."
Atena
[Megami no Izumi ]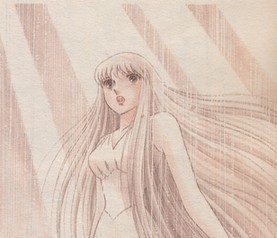 "Phaeton! HOW COME!? THOSE GOLD SAINTS WERE REVIVED JUST NOW... HOW COME IT DOESN'T
Paeto-n
WORK ON SEIYA!!?"
"First! Don't get angry! Shaina!", says Phaeton, "As you know, I am the Eridanus Saint. I am the Saint responsible to look
[Eridanusu Za:Constellation]
after Athena's Spring. When Athena wants to heal her Saints, she has to offer her Perfect Blood and let it mix with
Pa-fekuto Buraddo
[ Kanbeki no Chi ]
the Waters of Life in Athena's Spring. When that is done, we can lower the wounded Saints into that water and just let
[ Inochi no Mizu ]
Athena's Spring do its work. Unlike the Gold Saints where only their Life Energy was reduced to zero, Seiya's Cosmo also
[Seitai Enerugii]
went to zero."
"So you're saying, the Gold Saints were half-dead but their souls was intact so, Athena's Spring restored their bodies and they resurrected. But what about Seiya?", asks Shaina.
"It was the Sword of Hades... That attack was so powerful, Seiya couldn't recover his Cosmo."
"Then, you mean he will stay like this forever..."
"I don't know...", says the Eridanus Silver Saint, looking at the catatonic Seiya...

"Ha ha ha ha ha!!! Athena's Spring...", laughs Loke.
"What's so funny?", asks the Gold Saint.
"Oh... Aries Mu must have hard time restoring your Cloths. If I didn't remember wrong...
Ariesu
[Ohitsuji Za:Ram Constellation]
the God who Governs Death, Thantaos destroyed the Sagittarius, Aquarius,
[Shi o Tsukasadoru no Kami, Tanatosu] Sajitariasu Akueriasu
[Ite Za:Archer Constellation] [Mizugame Za:Water Jug Constellation]
Libra, Virgo and Leo Gold Cloths..."
Raibura
[Ten Bin Za:Sky Scale Constellation]
"Loke! Defeating you will have nothing to do with the condition of my Cloth! Old or New!!"
"Yes... Mu has wasted his efforts..."
"WHAT!?" shouts Aiolia and right then he launches one of the most powerful attacks of all the Gold Saints,
"LIGHTNING PLASMA!!!!!!!!!!!!!!!!!!!!!!"
[RAITONINGU PURAZUMA------------!!]
From the Leo Saint's right hand a million Lines of Light is launched, every single line of light represent a punch, that means,
[Hikari no Sen ]
there are a million punches heading toward Loke!
Shaina can see Loke is caught in between those lines of light, there's no way he can escape, but just when she thinks he is about to be hit a millions times over, the lines of light pass through Loke's body!
"Impossble!", shouts Shaina!
"Ha ha ha ha ha...", laughs Loke, "Aiolia, that was an interesting light show..."
"What!?", shouts Aiolia.
"Leo Aiolia, you are the Golden Lion with bared tusks... but, your teeth will never bite me... You may have Light Speed but
[ Kousoku ]
I have a speed beyond light!"
"What!?"
"Theos-Tachytita! The Speed of God!!"
[Kami no Sokudo]

End of Episode 13.

Episode 14: For Everyone's Goddess.
[Minna no Megami no Tame ni.]

"Theos-Tachytita!?", questions Aiolia.
"The speed that makes it possible for beings to travel beyond Light Speed. The Speed that the Gods travel at!"
"Huh! You're telling me you are moving as fast as the Gods...?"
"No... Each God travels in their own God Speed. It is just that I am the Thundera who is the fastest and can come close to them...."
"Eeeiii.... So troublesome! Whatever speed you have, even if you
[Eeeiii... Mendoo da! ]
have God Speed, I'll destroy you! LIGHTING BOLT!!!!!!!!!!!!!!!!!!!"
[Shinsoku] [RAITONINGU BORUTO----------!!]
All of Aiolia's Cosmo is concentrated into his right punch and he launches an Orb of Light heading straight for Loke!
[Hikari no Tama]
BUT RIGHT THEN!!
Loke uses just one finger to stop the Orb!! Aiolia can't believe it! The Orb disappears and Loke smiles. Right then, a flash from his finger can be seen!
"UWAHHHHHHHHHHHHHHHH!!!" screams Aiolia as he is launched flying away, crashing to a nearby grave!!
"AIOLIA!!" shouts the worried Shaina!
"Aiolia, let me show you the real speed attack!!
COYOTE GAMBIT!!!!!!!!!!!!!!!!!!!!!!!!!!"
[KOYO-TE GANBITO------------------!!]
Loke burns his whole Cosmo and an aura of the Ogo appears, the Jackal! But it is not just one Jackal but a decillion of jackals! That's a 1 with 34 zeros behind it! There's more than a decillion of Jackals biting into Aiolia! In a second, Aiolia's New Cloth is pulverized into nothing! Aiolia is let fly by the massive attack, crashing into a gravestone!
Almost like a God, Loke instantly appears in front of the Gold Saint now wearing only his everyday clothes.
"Aiolia... I thought you were ready to be buried here... But it seems I was wrong, your new Cloth saved you. Should you thank Mu...? No... Curse him! He has prolonged your suffering! HA HA HA HA HA HA!!!!!!!!"
Aiolia looks up but he is not looking at the face of Loke but the headstone in front of him, it is marked:

AIOLOS

GOLD

SAGITTARIUS SAINT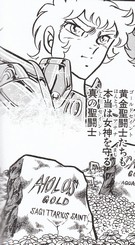 "Brother Aiolos...", says Aiolia...
[Aiorosu nii san...]
"Excellent! Aiolia!", shouts Aiolos, "Your Cosmo is beyond measure and your have attained the Speed of Light! Soon, you will fight to win a Gold Cloth! I am sure!"
"But, Brother Aiolos..." says the 6-year-old Aiolia, "How come I am still slower than you... I thought the Speed of Light is the fastest..."
"No Aiolia... ", says Aiolos, shaking his head, "Never think like that! We Saints should always strive to do the impossible! We Saints should always strive to break through barriers."
"But, Brother Aiolos, what about..."
Aiolos interrupts him, "I know what you are going to say... In the outside world, they have that equation E equals M C Squared... E being energy, M being mass and C, the speed of light being constant... That piece of knowledge has helped mankind but that equation is does not represent our world."
"WHAT!?"
"The physicist who came up with that equation had to make the Speed of Light constant so that he can create a physics that can explain the world, or at least the world people perceived... But, that C is actually a bottleneck..."
"A bottleneck?"
"Yes... Instead of expanding the horizon of man, it actually limits man into thinking they can't go beyond the Speed of Light, but Athena knows the truth. And she has passed that knowledge to us Saints! She have always known when this universe was born, at the moment we called, The Big Bang, the speed of light was not constant! She have always known that nothing is
[Dai Bakuhatsu]
ever constant! Everything is ever changing... And even time can be manipulated... Aiolia... maybe one day, you'll achieve what I've already have... But, remember always, there's no limit!!"
No limit.....
"Yes."
No limit...
"Yes, brother..."
No limit...
"There are no limits...", smiles Aiolia.
"What!?", shouts Loke.
"Loke! I only know of two people who have achieved a speed beyond light! One of them is my Big Brother and the other..."
"The other!?", questions Loke, wonderingly.
Aiolia smiles again, "THE OTHER IS PEGASUS SEIYA!!"
"WHAT!?", shouts the shocked Loke.
"When Seiya used Athena's Shield to save Athena, and at that same time, he drove out the Evil Aura from Saga, that was a
[ Atena no Tate ] [Jaaku no O-ra]
Speed beyond Light!"
"Ha! So now you think you can achieve a speed beyond mine!"
"For Athena! Anything's possible!!"
"THEN! LET'S SEE!! COYOTE GAMBIT!!!!!!!!!"
At that time, Aiolia shouts,
"EMBODYING MY LIFE AND MY SOUL!! NOW IS THE TIME TO BURN!!! MY GOLDEN COSMO!!!!"
[INOCHI TO TAMASHI O SOSOGIKONDE!! IMA KOSO MOERO!!! ORE NO OUGON NO KOSUMO YO!!!!]
Again, there's a decillion of Jackals heading for Aiolia but this time, it does not hit him!
"WHAT!?", shouts Loke!
"BROTHER AIOLOS! THE SKILL YOU PASSED ON TO ME IS NOW HERE!!
[AIOROSU NII SAN! ANATA NI SAZUKETE ITADIATA WAZA WO IMA KOKO NI!!
ATOMIC MAGNUM!!!!!!!!!!!!!!!!!!!!!!!!!!!!!!!!!!"
ATOMI-KU MAGUNA---------------------------MU!!]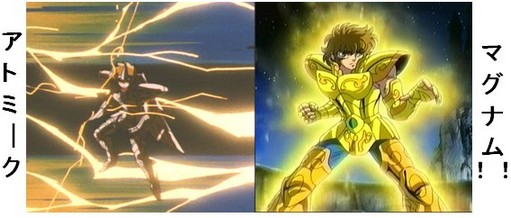 From Aiolia's right hand, all his Cosmo is concentrated into his right fist! The fist hits Loke and right then the massive energy launched into Loke's body explodes!! The explosion is not just any explosion but an explosion equivalent to one that created our universe! The Big Bang!! Matter and anti-matter, protons and anti-protons colliding against each other to create this massive destructive power! Loke doesn't even have the leasure of screaming because right at the moment of impact, he was consumed totally!
Sensing it is finally safe to approach this battleground, Shaina comes. Aiolia falls on the ground exhausted and dying. Shaina kneels beside him.
"Shai... na...", says Aiolia, full of emotion, "I'm sorry for killing Casios..."
"Aiolia... It wasn't your fault... I have already forgiven you... Though he wasn't a Saint... He fought for Athena... It was all for Athena... It was all for... Everyone's Goddess..."
[Minna no megami... no tame ni...]
"Yes...", smiles Aiolia, "Shaina... I see him..."
"Who!?"
"My Brother Aiolos!!"
"Really!"
"For Peace, Love and Justice... My Brother... will help Athena again... "
These are the last words of Aiolia. Shaina can sense Aiola's Cosmo and Lifeforce all gone. She looks up and she sees a shooting star pass through Leo Constellation and disappear.

End of Episode 14.

Evolution of Cloth

- The original Leo Gold Cloth was a lion with his left front paw held up. The New Leo Cloth is a Lion with two paws up almost like the Lion is rearing and the Lion has wings! When Aiolia wears the Leo Cloth, the wings will hide.

PREVIEW:

A Thundera has descended into Five Old Peaks!
But Dohko chooses not to wear his New Gold Cloth to fight him!!
And will the Real Truth about the Previous Hades War be revealed!?

Saint Seiya The Zeus Chapter - Earth
[Zennoo Shin Zeusu Chijyoo Kai Hen
Almighty God Zeus Land World Chapter]

Episode 15: The Master of the Old Master!!
[Roshi no Shi!!]

16: Dohko No Regrets...
[Dohko Mukai...]

HAVE YOU EVER FELT THE COSMO OF ZEUS!?
KIMI WA ZEUSU NO KOSUMO WO KANJITA KOTO GA ARU KA!?