Episode 27: The Final Judgment!!
[Saigo no Shinpan!!]
Sanctuary.
[Seiiki]
"Damn!!", shouts Nachi standing in Athena Temple with the others, "Comet Elli appears almost as big as the moon, if it appears bigger, it's all over."
"Stop that talk!!", shouts Shaina, "Athena will stop Zeus for sure!! Just protect Sanctuary earnestly!!"
"But, Shaina...", comes a voice, "If that Comet do approach closer, there's no way the Comet can return..."
"MARIN!!", shouts Shaina, seeing the Silver Saint walking in(wearing her mask), "WHERE HAVE YOU BEEN ALL THIS TIME!?"
"Ha!", laughs Marin, "Oh! Don't get angry! Shaina!"
[Fu! Ma! Okoru na! Shaina!]
"Sister!!", shouts Kyou.
[Nee San!!]
"I'm fine, Kyou. I just had to finish something I started."
...
"DIE!! BOY!!!!!!!!!!", shouts Zeus as a thunderclap cracks where all of Heaven can hear! From the Almighty God, Cosmo is traveling to kill Seiya but right then the Cosmo is blocked!!
"WHAT!?", shouts Zeus, "ATHENA!!"
Zeus's Cosmo attack has dissipated in front of Athena's Shield!
"Zeus... If no one can break your GOD FIELD, surely you know, my Shield will not break that easily too. I won't let you
[Sei Shin Kai ]
hurt Seiya!"
"Yes...", says Zeus, "Your Shield is quite powerful. If it was your Cane that led you to victory every time, your Shield has led you to protect the Land every time..."
"Zeus... Since the Time of the Myths, I always wondered if it was you who lead the Holy Wars to start since they began after you left... But now I know it has been Hera all along. EVEN IN THIS ERA, IT WAS HERA WHO LEAD PANDORA TO UNSEAL HYPNOS AND THANATOS!!"
"UH!", groans Seiya on the floor!
"The box that sealed the souls of those Twin Gods were place in a locked cottage in Heinstein Castle for over 200 years, but 13 years ago, an unseen force opened the lock for Pandora to enter. That unseen force was the work of Hera!!"
Hearing this, Seiya slowly gets up and asks, "A... Athena... If that Box was so important why would it be left in the family of Pandora's Father?"
"IT IS BECAUSE PANDORA'S FATHER IS ACTUALLY THE DESCENDENT OF THOSE SAINTS WHO WERE IN CHARGE OF WATCHING THE BOX!!"
Seiya can't believe his ears!!
Athena continues, "243 Years ago, Libra Dohko was sent to watch the sealed Evil Stars in Five Old Peaks, China, but there
[Ma Sei]
was no one to watch the Box. It was kept inside Sanctuary for some time until, finally Saints appeared again other than Pope Sion. They were sent to Tuttlingen, Germany with the Box to guard it, later, a castle was built there and it was later named, Heinstein Castle...
[Hainshutain Jyou]
"All this time, it was Hera's intention to destroy me. Zeus, maybe you knew, maybe you didn't but I accepted my mission to protect the Earth... However, this Supreme Comet is all your work and this War is also started by you and no one else..."
Zeus starts to grow are little angry, "Athena, are you saying you will fight me...?"
"I do not want to, but if I have to defeat you to save the Earth I will!!"
"Athena, surely you know if we do fight with all our strength, we would fall into a 10 Year War, or... We would both be
Ten Ya- Waru
[Jyuu Nen Senshou]
destroyed together..."
"It's unavoidable, isn't it so Zeus...?", says Athena with no expression.
Athena starts to burn her Cosmo concentrating it in her Cane! She release a Cosmo Blast toward Zeus! Zeus extends his left hand receives it and contains it in his left hand!
Just as Seiya thought Zeus is unhurt, suddenly, the headpiece of Zeus's Kamui flies away!
[masuku]
With the energy gone, Zeus finally says, "Okay then, Athena... I understand..."
"UH!!", groans Seiya, as he feels both Athena and Zeus are burning their Cosmo to the extreme, "IMPOSSIBLE!! THIS IS THE REAL POWER OF ATHENA AND ZEUS!!"
BEHIND ATHENA, AN IMAGE OF THE GODDESS OF WAR AND WISDOM CONFRONTING ALL KINDS OF GODS APPEARS!!
BEHIND ZEUS, AN IMAGE OF HIS OMNIPOTENCE RESTRAINING ALL KINDS OF GODS APPEARS!!
"WINNING PARTHENOS !!!!!!!!!!!!!!!!!!!!!!"
[UININGU PARUTENNO --------------------SU!!]
"ALPHA SKY THUNDER!!!!!!!!!!!!!!!!!!!!!!"
[ARUFUA SUKAI SANDA-------------------------!!]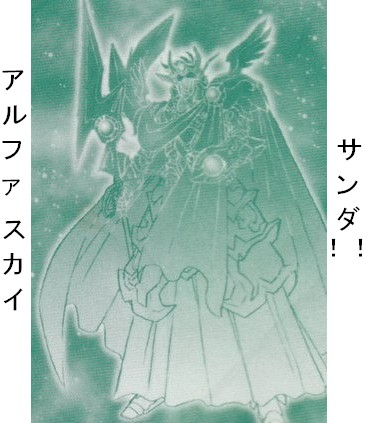 BOTH COSMO OF THE ULTIMATE OLYMPUS GODS ARE CRISSCROSSING AGAINST EACH OTHER!! FINALLY A MASSIVE EXPLOSION!! A BIG BANG!! HAS OCCURED!!
"UWAHHHHHHHHHHHHHH!!!!!!!!!!!!!!!!!", SCREAMS SEIYA!!
He is knocked out of the Judgment Room and crashes outside Zeus Temple!! He tries to get up but he senses,
"ATHENA!! ZEUS!! BOTH OF THEM ARE GONE!!!!!!!!!!!!!"
[ATENA!! ZEUSU!! FUTARI TOMO KIEDA---------------!!]
He runs back in the Judgment Room! No one is there!!
"SAORI!!!!!!!!!!!!", screams Seiya who can't believe he has lost Athena, but right then!! He can sense the Cosmo of Zeus! Suddenly, both Zeus and Athena appear back in the Judgement Room! Zeus is standing calm and Athena is kneeling in pain.
"ATHENA!!", shouts Seiya, who doesn't understand what just happened but Zeus speaks, "Why... Athena? Why did you stop?"
"What!?", wonders Seiya.
"Is it because you knew that even if I were to die with you, My Will would still continue and S. C. still would not
[Ishi]
be stopped..."
"Zeus...", whispers Athena with a weak voice, "Indeed, you are the Omnipotent God... All of my Cosmo still can't
[Sasu ga Bannou Shin... ]
defeat you..."
"Athena... There's still a chance I will stop the S. C. ..."
"Wh... at...?"
"Athena... When I left you I didn't just leave the Land. I also left Heaven. I went traveling all over the Universe to find an Ancient God. Do you know what that God told me...?"
Athena is all ears!
"That God told me if humans continue to pollute the world, extending their pollution to the Universe, the Universe will be no more... It was then that I made my Judgement, Mankind must be destroyed!!"
Athena has nothing to say.
"But!", continues Zeus, "That God also told me if there was one who was willing to die for the Earth, everything can be saved..."
Finally Athena speaks, "You will stop S. C.?"
"As you can sense, S. C. will be accomplished in a matter of minutes... No one can stop it but me... Will you die for the Earth? Will you, Athena, die for the sins of mankind...?"
"You will stop S. C. for real?"
"Unlike Hades, I will not lie to you... I ask you again, will you die in place of the Earth!?"
"If my life can save the Earth, I AM GLAD TO!!"
Hearing this Seiya, "NO!! NO!! SAORI!! YOU CAN'T DO THIS!!!!"
Zeus turns glaring at Seiya, "DISGRACEFUL!! ATHENA IS WILLING!!"
[MIKURUSHII ZO!!]
Right then, Seiya starts burning his Cosmo again,
"PEGASUS SHOOTING STAR PUNCH!!!!!!!!!!!!!!!"
[PEGASASU RYUUSEI KEN---------------!!]
But again, it doesn't work!!
"UWAHHHHHHHHHHHHHHH!!!!!!!!!!", screams Seiya, landing on the floor again!
"DA.... MN!!!", groans Seiya.
[KU... SO!!!!]
"Fine...", says Zeus glaring at the Pegasus Saint, "For the Land... YOU SHALL DIE FIRST!!"
A Cosmo Blast is heading for Seiya!!
"SEIYA!!", screams Athena. She can't stop the Cosmo Blast!! But suddenly, the Blast is blocked!!
"WHAT!?", shouts Zeus!! An image of a Dragon, a Swan, a Girl with Chains, a Phoenix appears!!
"SEIYA!!", SHOUTS SHIRYU, HYOGA, SHUN, IKKI!!

End of Episode 27.

Episode 28: Shine! The World Full of Hope!!
[Kagayake! Kibou Afureru Seikai!!]

Star Child Orphanage.
[Hoshi no Ko Gakuen]

"Are you angry with me?", asks Phrixus.
"No...", answers Seika, "Like I told Miho, I know now, the real mission of Seiya! And, he just started walking that road."
"Sister Seika...", whispers Miho.
[Seika Nee San]
Seika continues, "Seiya will protect this Earth for sure and he won't let any God destroy it..."

...

"I'm... I'm fine!", says Seiya, smiling as the Bronze Saints help him stand up.
[Da... Daijyoubu...]
"Seiya...", says Shun tenderly.
"Seiya!", says Ikki with assurance.
"Seiya, we're ready...", says Shiryu with a smile.
"Seiya... Let's go!!", says Hyoga, nodding his head!
"BURN!!" SHOUTS SEIYA!!
[MOERO!!]
"RISE!!", SHOUTS IKKI!!
[TAKAMARE!!]
"FOR THE JUSTICE OF THE EARTH!!", SHOUTS SHUN!!
[CHIJYOU NO SEIGI NO TAME NI!!]
"FOR THE ONES WE LOVE!!", SHOUTS SHIRYU!!
[AISURU HITO TACHI NO TAME NI!!]
"ALL OUR COSMO!!", SHOUTS HYOGA!!
[ORE TACHI NO KOSUMO NO SUBETE!!]
"DEFEAT ZEUS!!!!!!!!!!!!!!!!!!!!!!!!"
[ZEUSU WO UCHIYABURE----------------!]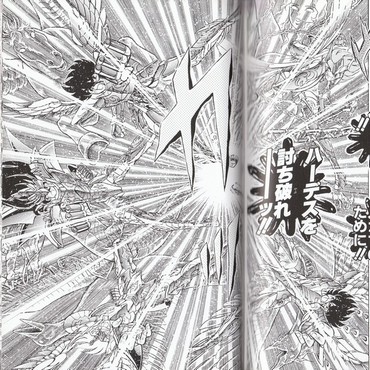 All five Bronze Saints combine their Cosmo to send punches toward the King of the Olympus Gods!! The Cosmo energy hits the barrier!! But just as they thought it would break, all of it bounces back!!
"WHAT!?" "IMPOSSIBLE!!" "UWAHHHHHHHHHH!!!!!!!!!!!!!!!", screams the five!! All of the five crashes to the floor,
[NANI!? BAKA NA!! UWA------------------------!!]
dragging them head long all over the place!!
Zeus says calmly, "Like I said before, even if many of the Olympus Gods were to combine their powers it would be futile..."
"AHH!!", groans Athena who suddenly feels a sense of dread. Zeus is burning his Cosmo and directing it in his left hand this time, not his Scepter!!
"Please no...!", groans Athena, "ZEUS!! NO!!!!!!!!!!!!!!!!!!!!!!!!!"
[Yame nasai...! ZEUSU!! DAME------------------!!]
"ALL OF YOU DIE TOGETHER!!!! RAINBOW THUNDERBOLT!!!!!!!!!!!!!!!!!!!!!!"
[OMAE TACHI ISSHO NI SHINE!!! REINBO SANDA-BORUTO-------------------!!"
AN INFINITE AMOUNT OF RAINBOWS LIKE ARROWS OF LIGHT HAVE APPEARED!! EVERYONE OF THOSE RAINBOWS ARE STRETCHING ACROSS HEAVEN TOWARD THE WHOLE UNIVERSE!! ALL OF HEAVEN!! ALL OF EARTH!! ALL AROUND THE UNIVERSE!! ALL CAN SEE THIS ATTACK!!
The five are gone! They are destroyed! Zeus turns to Athena. He can see her crying. Zeus did not intend to give Athena this pain but he had to do it. He walks over to stand over Athena.
"They died trying to protect you and the Earth...", says Zeus, "I still praise them for forcing me to use my ultimate Skill...
[Waza]
Come... Let's not waste...!!"
Zeus can't continue! He can't believe his eyes!! There is someone still alive!!
IT IS SEIYA!!
"Ev... Everyone!!", groans Seiya flowing with tears, "All of you shielded me and saved me from Zeus's R. Thunderbolt.!!"
Athena can't stop the tears, "Shiryu... Hyoga... Shun... IKKI!!"
"Athena... You have no time to mourn for your fallen Saints..."
Zeus lowers his Scepter and aims it at Athena's chest!! Right then, Seiya stands back up and wipes away his tears with his punch!
"EVERYONE!! A MIRACLE!! EVEN IF IT IS JUST A LITTLE CHANCE!! GIVE ME HOPE!!!!!!!!!!!!!!!!!!"
[MINNA YO!! KISEKI WO!! MAN NI HITOTSU DEMO II!! ORE NI KIBOU WO ATAETE KURE-----------------!!]
Right then Seiya burns his Cosmo and his Cosmo rises to the sky!! Suddenly, the Pegasus Constellation shines in the night! And then another constellation can be seen in the sky, Dragon! And then another, Cygnus!! And then, Andromeda!! And then one more, Phoenix!!
WAIT!! THERE'S MORE!!
Unicorn!! Lionet!! Hydra!! Bear!! Wolf!!
THERE'S MORE!!
Chameleon!! Eagle!! Ophiuchus!!
THERE'S MORE!!
Lizard!! Whale!! Hound!! Perseus!! Cepheus!! Lyra!! Eridanus!!
THERE'S EVEN MORE!!
Aries!! Taurus!! Gemini!! Cancer!!..............................
One by one, the Constellations of the Bronze Cloths, the Silver Cloths and the Gold Cloths appears and even the Kaiser Cloths!!
The Constellation of the Argo appears in the sky at last!!
Zeus looks up! He can't believe his eyes!! HE SHOUTS,
"THE... THE 88 CONSTELLATIONS ARE SHINING IN THE SKY!!!!!!!!!!!!!!!!!!"
[HA... HACHIJYUU HACHI NO SEIZA GA TENKUU DE KAGAYAITEIRU-------------!!]
He looks down, "UOH!! THE LIGHT IS SHINING ON THAT BOY!! NO!! ON THAT SAINT!! SEIYA!!"
"UOHHHHHHHHHHHHHHH!!!!!!!!!!!!!!!!!!!!!!!!", screams Seiya.
"SEIYA'S COSMO!!", shouts Athena,
[SEIYA NO KOSUMO GA!!
"SEIYA'S COSMO IS HELPED ON BY THE BIG WILL OF THE 88 CONSTELLATIONS!!"
HACHIJYUU HACHI SEIZA NO BIGGU UIRU WA SEIYA NO KOSUMO WO TASUKETE KUREDA!!]
"ZEUS!! YOU ARE DEFEATED!! PEGASUS COMET PUNCH!!!!!!!!!!!!!!!!!!!"
[ZEUSU!! OMAE WA MAKEDA!! PEGASASU SUISEI KEN---------------------!!]
A giant Comet heads straight for the GOD FIELD of Zeus and finally it breaks through!! It travels toward Zeus hitting him fully!!
"UAHHHHHHHHHHHHHHHH!!!!!!!!!!!!!!!!!!!", screams Zeus! He is knocked crashing to his throne, smashing it and finally crashes to the floor!!
Seiya runs toward Athena, helping her to get up.
"Seiya!!"
"Saori!!", says the Pegasus Saint, bringing up his right hand, "I return this back to you..."
Saori can't believe her eyes, "Th... This is Athena's Orb!! How!?"
Atena
[Megami no Tama]
"Marin."
"Marin!!"
"Saori, take it and save the Earth once and for all!!"
Saori smiles and says, "No!"
"What!?"
"We will do it together!!"
Hearing this Seiya smiles too.
Seiya is holding Athena's Orb with his right hand and Athena puts her left hand on the Orb and holds it tight! Together they raise it above their heads and they shout, "BURN!! OUR COSMO!!!!!!!!!!!!!!!!!!!!!!!!!!!!!!!!!!!!!!!!!!!!!!!!!!!!!!!!!"
[MOERO!! WATASHITACHI NO KOSUMO YO-----------------------!!]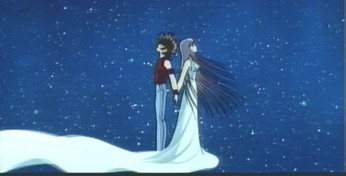 Instantly, a beam of light shines!! The beam of light travels beyond Zeus Temple, beyond Heaven, beyond the Earth, beyond the whole universe!!
Right then, Zeus is concious again, and he sees what's happening and he says, "The Light of the Orb has reached the Source of Life!! The place where the Big Will was born!!"
From the Source of Life, massive Cosmo comes to blanket our universe!!
"My Will is cut off... A miracle! A true miracle has happened!!"
Right then, Zeus shows a smile...

"LOOK!!", shouts Jabu in Athena Temple, "Comet Elli is returning to its original course!!"
"Athena...", cries Shaina.
"Seiya...", cries Marin.

"Sister Seika!!", shouts Miho with the kids in Star Child Orphanage.
"Seiya..." says Seika tenderly.
"Athena, Seiya, Shiryu, Hyoga, Shun, Ikki...", says Phrixus, "Your true test will begin very soon...."

Back in Zeus Temple, Athena walks to Zeus and kneels down. Zeus's body is turning black. He is dying.
"Excellent...", says Zeus still smiling, "Athena and... your Saint, too..."
[Migoto da... Atena soshite... Anata no Seinto mo...]
"Zeus...", says Athena tenderly. Seiya can sense Heaven is starting to crumble. Soon with Zeus's death, the Sky World, Purgatory and Olympus will be no more.
"Athena...", says the Almighty God, "Remember, that Athena's Orb, you have yet to use its real power..."
[riaru]
Athena nods her head.
"You know. Don't you...?"
Athena nods again and she says with a stern face, "Ragnarok."
Ragunarokku ga
Shinryoku no Hakai
[The Destruction of the Divine Powers]
"Yes.", answers Zeus as he slowly disappears,
"Ragnarok will... Begin..."
[Ragunarokku ga... Hajimaru...]
And with that, Zeus is gone.
Seeing this, Seiya finally comes over to Athena and says, "Saori..."
[Saori San...]

On the Land, Marin is watching Comet Elli intently. The Comet is traveling across the sky, silent and steady.
"Sister...", says Kyou who wonders what his sister is thinking.
"Kyou...", answers Marin finally, "Maybe, this Comet was not sent here to destroy us... Maybe... This Comet is a sign..."
"A sign?"
"A sign that a New Hope will be born..."

End of Episode 28.

SAINT SEIYA
CHAPTER IV
THE ZEUS
Fine


Postscript

I had the first ideas of my Zeus Chapter back in 1997,
but I didn't really write the a first draft until 2000. I finished the darft and put it aside.

It wasn't until I saw Hades Sanctuary Chapter that I decided I had to rewrite it again.
With the help of the Hypermyth and lots of research, it gave me tons of ideas.

Thank You! Masami Kurumada, Seiya and everyone who has read this story!!
Thanks to all of you, I have kept my dreams alive...




Philip Wai Tak Ho, Sept. 25th, 2008 in Hong Kong.