Episode 23: Ichor! The Power of the Gods!!
I-ko-ru
[Shin sei:Divine Nature!! Kamigami no Chikara!!]
Shiryu is standing in wonder, not because of the landscape of the Paradise, or the souls dwelling here, but because he sees machine-bots!! Yes!! Machine-bots!!
Mechanical machines in the image of humans are all around the Paradise. One of them finally approaches the Dragon Saint and says to him in a monotone, "Welcome to the Paradise of Honor. Only those who served God all their lives and passed the
Paradaisu
[ Kouei no Shinraku]
Purging of Purgatory gaining Privilege can enter here... My Master is waiting for you in his Temple."
"I am the Craftsmanship God, Hephaistos...", says the Olympus God smiling at Shiryu, inside his Temple.
Bu Sou Shin
[Military/Arts Create God]
"Those machine-bots...", questions the Dragon Saint, "were all created by you?"
"Ha! For us Gods, it is no trouble at all..."
Looking at the damaged filled Dragon Cloth, Hephaistos says, "I was going to ask you to leave but I sense a Saint like you would never run from a fight..."
"Of COURSE! FOR THE EARTH! FOR OUR FRIENDS!! THAT'S WHY WE ARE HERE!!"
Suddenly, a weird sound can be heard and flames surround Shiryu!
"As expected, Dragon! You too have received the Blood of Athena!"
"If you forget that even for a moment, you will suffer!", shouts Shiryu finally wearing his DRAGON GOD CLOTH!!
Goddo Kurosu
[DORAGON NO SHIN SEI I!!]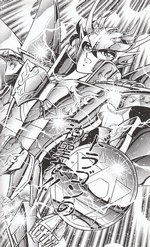 "TAKE THIS HEPHAISTOS!! ROZAN RISING DRAGON SUPREME!!!!!!!!!!!"
[KURAE HEPAISUTOSU!! ROZAN SHOU RYUU HA----------------!!]
From Shiryu's right punch, all his Cosmo creates a Dragon flying toward the Olympus God but Hephaistos just stands there and raises his left arm to block the attack!
The Dragon Saint stands in shock with nothing to say!
"DRAGON! DO NOT UNDERESTIMATE ME!", The God raises both his hands to release ten small Cosmo Orbs traveling toward Shiryu! Just as Shiryu's whole body was about to be consumed by the orbs, he raises his left arm and blocks all the attacks with his shield!
"WHAT!?", shouts Hephaistos as the energy dissipates. Both the God and the Saint is not hurt by this little exchange of blows.
"Hephaistos, it's you who should not underestimate me! My shield was shattered totally in Purgatory but by awaking my
[Rendou]
God Cloth, my shield has probably become one of the most strongest ever created.
"Ha!", remarks the Craftsmanship God, "As expected, the Power of the Ichor..."
I-ko-ru
Shin sei
[Divine Nature]
"Ichor...?" wonders Shiryu.
"Dragon... You may already have guessed, it was I who built the 12 Kamui. But, the Kamui is not just any armor and it has to be created with the help of the 12 Olympus Gods, the help of their Ichor... And it is also the Ichor which helps you gain the God Cloth!"
"WHAT!?", shouts Shiryu, suddenly it occurs to him, "You mean!!"
"YES! THE BLOOD OF THE GODS!! It was I who gathered the materials for the Kamui but it is actually the Blood of the
[KAMI NO CHI!! ]
Gods which forms the final product. The Gods' Blood has the power of the Ichor which gives an inanimate objects
Divine Life..."
[Shinsei naru Inochi]
"Then you mean, it is actually Athena's Ichor that helped us receive the power of the God Cloth!"
"Yes. Shiryu... That same power is what gives my machine-bots life..."
Shiryu has nothing to say, but this is not because of what the Olympus God just revealed to him, Shiryu can now sense Hephaistos is burning his Cosmo for real!!
Behind Hephaistos, Shiryu can see an image: All kinds of creations constructed by the Craftsmanship God, in Heaven, on Earth and under the Sea!! Armors, weapons, necklaces, ornaments, villas, temples!!
"LOST DIGNITY!!!!!!!!!!!!!!!!!!!!!"
[ROSUTO DEIGUNIT-I-------------!!]
Massive light shines all over the Temple drowning Shiryu!
"UWAHHHHHHHH!!!!!!!!!!!!!!", screams Shiryu as he is sent flying, breaking through ten pillars in the Temple. He lands back on the ground as the crumbing pillars come crashing down all over the place.
Shiryu is not dead yet, he slowly rises up, burning his Cosmo!
Hephaistos stares at Shiryu, smiling again. Shiryu doesn't give up and shouts, "ROZAN..."
[ROZAN...]
Shiryu stops!! He was going to launch RISING DRAGON SUPREME at the God but he feels kind of funny. His God Cloth is creating a strange sound!
"What's happening...?", wonders Shiryu as he touches his God Cloth, suddenly, the God Cloth becomes transparent!
"WHAT!?", shouts Shiryu who finally sees his Dragon God Cloth disappear and revert back to his Bronze Cloth!!
"IMPOSSIBLE!!!!!!!!!!!!!!"
"Ha ha ha ha ha....." laughs the Olympus God silently.
"What did you do!?"
"I didn't destroy your Cloth if that's what you asking. I just suppressed the Ichor in your Cloth... From now on, you can't invoke your God Cloth again!!"
Shiryu stands in shock!
"Dragon... Without your God Cloth, you are just a baby... I know you would rather die than live in shame... So, let me bring you to your death!!"
From the God's right hand, electrical shocks of Cosmo arises and travels toward Shiryu! His whole Cloth is shattered into nothing! Hephaistos thought Shiryu was done but wait! Suddenly he sees an image of a Rising Dragon!!
[Shou Ryuu!]
"WHAT!?", this time it is Hephaistos's turn to be in shock!
A Rising Dragon has appeared behind Shiryu's back almost like a tattoo! But it is not a tattoo, this image appears when Shiryu is burning his Cosmo to the extreme!!
"Hephaistos... Do you know how many times I fought without my Cloth!? Do you know how many times I fought with only my own power!! Even if I should die here, I won't die alone!! ROZAN'S GREATEST SECRET!!
[ROZAN SAIDAI NO OUGI!!]
ROZAN HUNDRED DRAGON SUPREME!!!!!!!!!!!!!!!!!!!!"
ROZAN HYAKU RYUU HA-----------------------!!]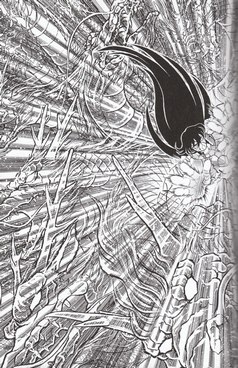 From Shiryu's open palms, 100 dragons fly out!! The dragons bombard Hephaistos to death!!
"UWOHHHHHHHHHHHHHHH!!!!!!!!!!!!!!", screams Hephaistos as he is blown away!! This time it is the Olympus God who crashes through 10 pillars!!
Shiryu is exhausted and drops down on his knees, staring at the helmet of the Kamui that was blown away from Hephaistos's head, but suddenly, he groans, "HAH!!"
Hephaistos stands back up as if nothing has happened! Shiryu shouts, "Wh... What kind of man is he...? To... Too strong...!"
"No...", says the God, "Not just me, my Kamui is also strong..."

End of Episode 23.

Episode 24: Right now! Athena's Gift!!
Atena
[Ima koso! Megami no Okurimono!!]

"Dragon, I praise you. Any other God, even Zeus might find that blow troubling. You are correct to say, you didn't borrow the God Cloth's power but, you can't defeat me on your own... Like I said before, the 12 Kamui are so powerful because of the Power of the Ichor, and my Kamui is even more so, MY KAMUI CAN ACCESS THE BIG WILL FROM WHERE IT WAS BORN!!"
"From where it was born!?" shouts Shiryu.
"Ha!", laughs the Olympus God, "As long as I wear my Kamui, no matter how you struggle, you can't defeat me... Those who don't know their place are people like you! For committing such Sins of Blasphemy, even if you die a thousand times, it
[Boutoku no Tsumi]
wouldn't be enough!!", shouts Hephaistos, sending a giant orb of Cosmo toward Shiryu!
"GWAHHHHHHHHHHHH!!!!!!", screams Shiryu, crashing few meters away! The Craftsmanship God was about to walk away when he realizes Shiryu is still alive and he stands up slowly in pain. The Olympus God looks at him with an amused expression almost like looking at a bug.
"Li... Like you said... We've probably started a fight that we can't win. Humans polluted the Earth and we must receive
Divine Punishment, but it is that Earth we were born into, and it is that Earth we met dearest friends. We love that Earth, in
Ten patsu
[Heaven's Punishment]
this Time, with Athena!!
"BLAZE UP!! THIS SHIRYU'S REMAINING COSMO!!
[MOEAGARE!! KONO SHIRYU NOKOSARETA KOSUMO YO!!
EXCALIBUR!!!!!!!!!!!!!!!!!!!!!!!!!!!"
EKUSUKARIBA------------------!!]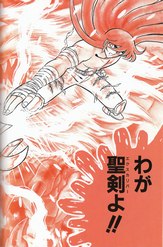 All of Shiryu remaining Cosmo is concentrated in his left arm! He uses that arm like a Sacred Sword and releases a
[Sei Ken]
cutting-hand toward Hephaistos! Shiryu cuts down and hits Hephaistos's head!
[shutou]
BUT WAIT!
All that cutting power is stopped! Right at that moment, all that energy is bounced back at Shiryu!!
"UWAHHHHHHHHHHHHHHH!!!!!!!!!!!!", screams Shiryu as his naked body is cut all over, with his Sacred Sword ravageing his own body!! The Dragon Saint is bleeding all over. Seeing this, Hephaistos grins again, "I think now you finally understand. Dragon..."
As the Olympus God slowly approaches Shiryu, the Saint thinks to himself, "Even if I use Extreme Dragon Supreme, it
[Kou Ryuu Ha]
won't make a difference. His Kamui is too strong... All my power is slowly fading away... Is this it...?
"NO! Like Athena once said, as long as I have this life, I should burn it and a miracle will definitely occur!"
Shiryu stands back up again and starts burning his Cosmo one last time. Looking at the bleeding Shiryu, Hephaistos can't help but feel sorry for him, "Dragon... It is useless, you can't invoke your God Cloth no matter how you burn your...!"
Hephaistos can't finish because he sees something funny. The blood of Shiryu is suddenly burning up with his Cosmo!
NO! SHIRYU'S BLOOD AND THE DREGS OF WHAT'S LEFT OF THE CLOTH IS BURNING UP!!
[kazu]
"IM... IMPOSSIBLE!! WHAT IS THIS!?"
Suddenly in front of the Shiryu, there are flames burning, forming some sort of object!! With a weird sound, the object is revealed!
IT IS A SWORD!! A REAL SWORD IS CREATED RIGHT IN FRONT OF SHIRYU!!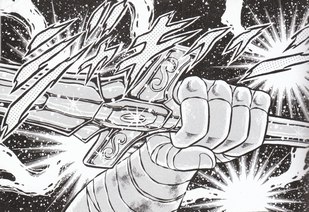 "IM... IMPOSSIBLE!! THE DUST OF THE CLOTHS HAS RECONSTITUTED ITSELF AS A WEAPON!! THIS IS!! THIS IS!! AH!!"
Suddenly it occurs to Hephaistos!!
"THIS IS JUST LIKE ARSENAL!!"
A-shinnoru
Chou Shin gu
[Super God Weapons]
"ARSENAL!?", shouts Shiryu as he holds the Sword with both his hands.
"Arsenal...", explains Hephaistos, "Like its name entails, it is the Ultimate Weapons for the Gods, even Olympus Gods like me have yet to access them... I don't understand why a human like you who's no more than a worm would be able to get it!"
[ujimushi]
"Really!", shouts Shiryu, "Even amongst the Gods, there are forbidden weapons!!"
[kindan no buki]
Hearing this, the Craftsmanship God calms down and he says, "No! Shiryu! You're not holding an Arsenal. You didn't get it by your own power. You burned your blood along with what's left of your Cloth, the Cloth that contained Athena's Blood, this can only mean, you are holding... THE ULTIMATE GIFT OF A GOD!! GOD ARMS!!"
Goddo A-muzu
Shin Sei Ki
[God Sacred Weapon]
"MUH!! THE ULTIMATE GIFT OF ATHENA!! GOD ARMS!!", shouts Shiryu, suddenly it occurs to him, "In Greek Myth, it does record that the Goddess of War and Wisdom, bestowing all kinds of weapons and tools to her warriors, TO HER CHOSEN SONS!!"
[Erabareta Moushigo]
"Yes..." says Hephaistos, really speaking to himself, "I too have given armors, weapons, and tools to warriors, helpers that I value... But Dragon, I won't fear your weapon. You're still not wearing any protection and I am wearing my Ultimate Protection among the Olympus 12. RECIEVE THIS!!"
And Hephaistos releases a giant orb of Cosmo heading for Shiryu! But right then, Shiryu swings down his sword to cut the orb in two!!
"WHAT!?"
Taking this chance, Shiryu rushes over to pierce the Olympus God with his Sword! Shiryu swings sideways from left to right but Hephaistos dodges the attack by jumping up, landing behind the Dragon Saint!
Just as Hephaistos was convinced he completely dodge the attack, his left arm portion of his Kamui cracks up! Fragments of armor fall to the floor!
Hephaistos stares at his wounded arm with disbelief! Finally, he wakes up from his stupor and shouts, "DAMN YOU!!"
[ONOREI!!]
Filled with anger, Hephaistos starts to burn his Cosmo where all of Heaven can feel!
Shiryu can see an image rise behind the Craftmanship God: Angry with the Olympus Gods defeating the Titans, Gaia sends the Earth Born Giants to attack Heaven but Hephaistos just uses one weapon to rout the Giants!
He shouts, "CREATOR HAMMER!!!!!!!!!!!!!!!!!"
[KUREITO- HANMA---------------!!]
This is it! All of Hephaistos's Cosmo is ready to smash Shiryu to pulp! But right then he shouts,
"BY THIS SHIRYU'S COSMO RISING TO THE ULTIMATE, RISE DRAGON! HIGH TO THE SKY!!"
[KONO SHIRYU GA KYUUKYOKU MADE TAKAMETA KOSUMO DE NOBORE RYUU YO! TEN KAGAKU!!]
"WHAT!?", shouts Hephaistos as he sees an infinite number of Dragons rising from Shiryu to protect him!
"NOW IS THE TIME TO ROAR!! MY GOD ARMS!!", shouts Shiryu as he plunges his Sword into the chest of
[IMA KOSO UNARE!! WA GA GODDO A-MUZU YO!!]
Hephaistos, piercing right through his heart!! Hephaistos's mouth is agape, divine blood spurting out! Blood of an Olympus god is dripping down along with fragments of his Kamui!
Shiryu lets go of his God Arms and the Sword disappears but right then! On his body, his God Cloth has reappeared! Though with many cracks, Shiryu is wearing his God Cloth again!
The God of Craftsmanship is still, but he asks one last thing before he passes away, "I don't understand... How can a mortal like you win over me..."
Shiryu turns and walks to stand at the exit of the Temple, watching the machine-bots of this Paradise and he says, "You are a very powerful Deity, Hephaistos. With that power, you can probably create a machine-bot that can rival the Strength of a God but, do the things you create have life? Are they really alive?"
Shiryu turns and looks at Hephaistos directly and says, "Why does Athena love the Earth? It is because the Earth is filled with life; life that is full of infinite possibility... That is the one thing you probably never understood..."

End of Episode 24.

PREVIEW:

REVEAL!! THE SECRET OF MARIN!!
APPEAR!! THE MYSTERY OF ZEUS!!
2 EPISODES YOU CAN'T MISS!!

Saint Seiya The Zeus Chapter - Olympus
[Zennoo Shin Zeusu Tenkai Hen
Almighty God Zeus Sky World Chapter]

Episode 25: The Name Is Rinran!!
[Sono Na wa Rinran!!]

26: Zeus! Appears Since Mythology!!
Zeusu
[Zennou Shin! Shinwa yori no Shutsugen!!]

HAVE YOU EVER FELT THE COSMO OF ZEUS!?
KIMI WA ZEUSU NO KOSUMO WO KANJITA KOTO GA ARU KA!?