Episode 19: The Last Knowledge!!
[Saishuu no Chie!!]
Ikki has just entered the Temple at the center of Paradise of Justice. He is already wearing his Phoenix God Cloth.
Paradaisu Goddo Kurosu
[Seigi no Shinraku] [Fuenikkusu no Shin Sei I]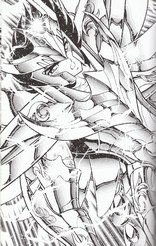 "I've been expecting you, Phoenix Ikki..." says a voice.
"How do you know my name?"
"I am the Prophecy God, Prometheus... I govern this Paradise where only those who had lived their lives treating all peoples
[Yochi Shin]
fairly and without biases, and had passed the Purging of Purgatory gaining Righteousness can enter."
Prometheus studies carefully the Cloth Ikki is wearing and says, "As expected, that Cloth..."
[Yahari Sono Kurosu...]
Hearing this Ikki wonders, "What about my Cloth?"
"A long time ago, I saw the Coming of your Cloth..."
"What do you mean!?"
"During the Time of the Myths, I told Hera a prophecy. I saw that if and when all 88 Cloths of Athena were used, Heaven Will Fall."
"You're saying that is the reason why Hera sunk the Mu Continent!?"
"Yes. Ikki.", smiles Prometheus, "Before the Sinking, there were already 83 Cloths created. By killing most of the Mu Alchemists, Hera intended to prevent the creation of the 88 Cloths but it actually pushed the Kaiser Cloths and the 88th Cloth to be created. THE 88th CLOTH IS YOUR CLOTH PHOENIX!!"
Ikki is so shocked he has nothing to say!
"Ikki... Forgo this fight. I already seen your defeat..."
Hearing this, Ikki finally wakes up, "If you think you can convince me from fighting just because you are wearing your Kamui! You estimated me wrongly! TAKE THIS!! PHOENIX ILLUSION PUNCH!!!!!!!!!!!!"
[KURAE!! HOU OU GENMA KEN------------!!]
From Ikki's right hand, he sends a mental pulse toward the Olympus God!
The Kamui of Prometheus melts away and he realizes he is chained to a rock. He looks up and he sees a Eagle fly down to eat his liver. The poor Prometheus, because he is an immortal, he has to endure this suffering forever!
"GYAHHHHHHHHHHHHH!!!!!!!!!!!", screams Prometheus! He open his eyes again and realizes what he saw was not real!
"Just now that scene that I saw..."
"Ha!", laughs Ikki, "That was an...."
Ikki can't finish because he feels a little funny. Suddenly, he realizes Prometheus is gone! He turns behind and the Olympus God is standing behind him!
"Ca... Can it be...", says Ikki, "That was an illusion I saw..."
"DIE!! IKKI!!!!!", shouts Prometheus, and from behind, he sends a blast of Cosmo toward Ikki penetrating his liver!!
Ikki falls, coughs blood shouting, "IMPOSSIBLE!!"
"Like I told you before...", says Prometheus looking down at the bleeding Ikki, "I am the Prophecy God, you don't think I already saw what you were about to do and how to reflect your Finish Blow..."
Ikki doesn't give up and was about to turn to send a hot punch toward the Prophecy God when suddenly, he realizes he can't move! Prometheus is burning his Cosmo and for the first time Ikki feels a strange foreboding, "I have never felt such a Cosmo as terrible as this! It's almost like it is something totally different than the Cosmo we Saints burn!"
Prometheus shouts, "GRAND OMNI WISDOM!!!!!!!!!!!!!!!!!!!!"
[GURANDO OMumiI UISHIDDO----------MU!!]
Right at that moment, Ikki can see an image of a young woman holding a box!
"Ikki... You too will not follow the instructions of an Olympus God, like the First Woman...
"Passed down in your Human Mythology, that First Woman was given a box and she was told never to open it but she couldn't resist and all kinds of evil spread through out the world but hope was still left inside...
"But that is not the real truth! What was left inside was not hope, but The Last Knowledge..."
[Saishuu no Chie]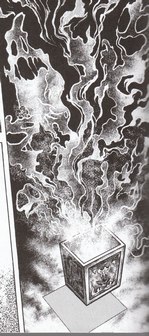 "The Last Knowledge?", wonders Ikki.
"Think about it, Ikki! Hope would never be sealed inside a box filled with evil! What was sealed was The Last Evil, the one thing that will bring destruction to any human!"
"Destruction to any human...?" wonders Ikki.
"THAT LAST EVIL IS... THE KNOWLEDGE OF HOW YOU WILL DIE!!", shouts Prometheus! He starts to gather Cosmo and the box that the First Woman is holding slowly opens!
"Ikki... For you, I will open that box and you will see it for yourself!"
Suddenly light starts to appear and Ikki can see an image of himself!
"WHAT!?", screams Ikki! The image of Ikki is fighting Prometheus. Prometheus launches an attack! Ikki is hit fully and his body is blown to bits, flesh flying here and there! His body pieces and even the life of Phoenix Cloth finally burns out! Seeing what just occurred right in front of him, Ikki is trembling hard, sweating profusely.
"Well, Ikki, you are one of the few who have gained The Last Knowledge... Should you feel honored? Ha! For every single one who seen how they died, they end up committing..."
Right then, Ikki kneels down and with his right hand, he sends a punch right through his chest piece of his God Cloth, and into his own heart!!
Blood is dripping all over the floor and finally the Phoenix Saint lays on the ground, dead! Right that moment, a shooting star passes by the Phoenix Constellation, falls and disappears...

Prometheus walks out of his Temple. The Olympus God looks out at the Paradise of Justice filled with beautiful flowers and
fine grass. With a blank expression, he says to himself, "Even though, he went against Zeus, it's a shame. If Hermes was still here, I would definitely ask him to reunite Ikki with his love, Esmeralda, and those two lovers would stay here forever... That's the least I could have done for him. But... It's too...!"
The Olympus God can't finish! Suddenly from behind, he is hit! But Prometheus doesn't crash to the ground, instead he does a somersault and lands back unhurt! He turns and he sees Ikki is still alive! Ikki shouts, "Staying in this Paradise does not fit me! Prometheus!!"
"Impossible...", shouts Prometheus, looking at Ikki's wounded body. His God Cloth did break on his chest. He did punch through his heart. The Prophecy God wonders, "Why is he still alive?"
Ikki finally speaks, "Do you know how many times I came back from death? I don't care if it was hope or not that was stored in that box. No matter how many times I have to try, I will defeat you!"
Prometheus senses Ikki is burning his Cosmo and an image of the immortal bird appears!
"TAKE THE FLAPING OF THE PHOENIX!! PHOENIX WING GLIDE!!!!!!!!!!!!!!!!!!!!!!!!!!!!!!"
[KURAE HOUOU NO HABATAKI!! HOU YOKU TENSHOU-------------------!!]
The immortal bird is flying fast towards the Olympus God! BUT!
"I SAID IT'S USELESS!!", shouts Prometheus who already knew what Ikki was going to do! He sends a giant orb of Cosmo to destroy the blazing Phoenix! The Cosmo Orb hits the firebird!
"KYAHHHHHHH!!!!!!!", screams the dying creature, finally the blazing bird extinguishes with trails of smoke rising to the air!

End of Episode 19.

Episode 20: At Prophecy's End...
[Kanekoto no Hate...]

"How many times do I have say this... I...!" But again, Prometheus stops, because suddenly his helmet is blown and his hand that released the Orb of Cosmo is bleeding! Although it is only one drop of blood, the Prophecy God can't hide his surprise.
"How is this possible...? Can it be... Can it be... When he punched through his heart, he didn't actually wanted to kill himself, but to make himself stronger!?
"It is just like his Constellation where the Phoenix would purposely destroy itself and then be reborn getting another life!!
"But Ikki... You still won't defeat me... How many times do you think you can do that...?"
"What?", shouts Ikki breathing hard.
"Since you won't die by your own hand, it only leads you to Final End, have you forgotten what The Last Evil showed you?"
"Unfortunately, I don't believe in god!!
[Zannen daga ore wa kami nado shinjinu tachi da!!
GODS LIKE YOU AND ZEUS, I DON'T BELIEVE IN!!"
ZEUSU YA OMAE NO YOUNA KAMI NADO ZETTAI SHINJINU!!]
"What?"
"LIKE I SAID EVEN IF THERE'S NO HOPE, I'LL TRY AGAIN!!
PHOENIX WING GLIDE!!!!!!!!!!!!!!!!!!!!!!!!!!!!!!"
[HOU YOKU TENSHOU-------------------!!]
Again, a flaming bird is flying right at the Olympus God but Prometheus just stands there and he uses his left hand to block it and all the energy from the blow disappears! Ikki stands dumbfounded.
"Ikki...", says Prometheus with a stern face, "You may have just started awakening the Nine Sense, but you are just BASIC..."
"BASIC?"
"Do you remember when Thanatos had no trouble fighting you Saints even wearing Gold Cloths...? The reason why the Gold Cloth made no difference to a God like Thanatos was because, he is EVOLVED, meaning, he has access to the Big Will..."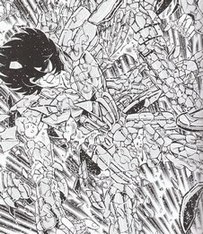 "You mean... wearing the Gold Cloth made no difference because we did not have access to the Big Will then..."
"Yes, Ikki. You were UNEVOLVED, but with the help of Athena's Blood, you attain the God Cloth, you commune with
her blood to access the Big Will and because the God Cloth is very close the Kamui, Hypnos and Thanatos wearing Surplices
[kagiri naku Kamui ni chikai]
had to lose to you..."
"But!", shouts Ikki, "Why Hades with one swing of his sword blew us away...?"
"IT IS BECAUSE HE IS AN OLYMPUS GOD LIKE ME! We the 12 Gods are UNRIVALED!! We can access the Big Will fully, while you may understand it on a BASIC level. Furthermore, I am wearing my Kamui right now. There's no way you can defeat me..."
Ikki is silent. He know this is true.
"I know... You want to ask me a question..."
Ikki hesitates for a second and finally says, "Why! Prometheus! Why a God as powerful as you would support Zeus!? If you are truly the one who governs this Paradise of Justice, do you actually see Zeus's actions as just!? PROMETHEUS!! WEREN'T YOU ALWAYS WILLING TO HELP MANKIND!!"
Prometheus remains silent. Ikki can see in the Olympus God's eyes, there is sadness. Finally, the Prophecy God answers, "Just for you Ikki, I will admit it. I don't really care if Zeus wins or not... Some may consider me a traitor but if they only knew what I know..."
"What!?"
"Whether Athena succeeds in protecting the Earth or not, it doesn't matter. We can't escape fate..."
"What fate!?"
"A mortal like you will never understand... Enough of this!"
Finally for the first time, Prometheus burns his Cosmo for real!
Suddenly, Ikki can see an image rise behind the Prophecy God: Zeus leading the Olympus Gods are fighting with Cronos leading the Titans! In between them, stands Prometheus! All of a sudden, his head start to split open, great fire is rushing out!!
"IKKI! RECIEVE MY MOST POWERFUL SKILL!!
[IKKI YO! KONO PUROMETEUSU SAIKYOU NO WAZA WO UKEYO!!
GREEK ILLUMINATION!!!!!!!!!!!!!!!!!!!!"
GURI-KU IRUMINE-SHON------------------!!]
"UWAHHHHHHHHHHHHHH!!!!!!!!!!!!!!", screams Ikki as his whole body is hit with that Clever Fire, in an instant, his whole body is torn to bits, guts and blood flying all over the place, his God Cloth is shattered! Flesh, bone, Cloth materials, all of it are burned!!
Prometheus looks down at the last burning pieces of the body and Cloth, "This kind of bloodshed in Olympus is extremely disrespectful to Zeus... but you forced me, Ikki..."
[osore ooi]
The Olympus God starts walking back to his temple behind him, all of fires are burnt out and smoke is rising. He was about to enter the Temple when suddenly, he can feel Ikki's Cosmo above him! He looks up and a cloud of smoke is formed but suddenly a strong wind blows and the smoke is swept away, revealing the Phoenix Saint!!
"IMPOSSIBLE!!", shouts Prometheus, "EVEN IF HE IS A PHOENIX SAINT, THIS IS!!"
Ikki appears again wearing his God Cloth lands back on the grass smiling, "Prometheus... If you didn't use your
G. O. W. , even if I was truly immortal, I will be dead for sure but, for a Saint..."
[Gurando O-mi- Uishiddomu]
"AH!" interrupts Prometheus, "YOU CAN'T USE A SKILL ON A SAINT TWICE!!"
"Yes! Prometheus! I already saw fully your Skill when The Last Evil showed it to me..."
"HA!", groans Prometheus in disgust, "By showing him the future, I changed it!!"
Ikki grins!
"This doesn't mean you will win!", continues Prometheus, "You have yet to do any real damage on me. If you think you
want to burn your Cosmo to die with me, you can forget it!"
[sashichikaeru]
"I don't intend to. The fact you can create such a powerful moves like Grand Omni Wisdom shows that your power is very special... The only way I can truly defeat you is if I awake fully the Nine Sense..."
"And you think you can do that..."
"Shaka left me something after he died..."
"What?! You mean the once Seraphim Thundera who choose to be reborn as Athena's Saint to save mankind?"
"Yes. Right after he passed away, Shaka left me Three Words... 'Cogito, ergo sum.'"
"COGITO, ERGO SUM!!", shouts Prometheus in shock, "In Latin, this means, 'I think, therefore I am'!!"
"That's right, Shaka sent me this last message and finally, I understand the Nine Sense can also be considered
THE SENSE OF SELF!! By reaching the Nine Sense I won't be bound by the destiny of The Last Evil!! or the destiny you
[JIKO NO KANKAKU] [shukumei]
would want to impose on me!! THIS IS FREE WILL!! PROMETHEUS!!"
With that, Ikki starts burning his Cosmo to the beyond, almost like a fire that will never be quenched!!
"EEIHH!!!", groans Prometheus, "I WON'T LET YOU REACH BIG WILL!!
GREEK ILLUMINATION!!!!!!!!!!!!!!!!!!!"
GURI-KU IRUMINE-SHON--------------!!]
From the Olympus God's hands, his most powerful burning skill is released again but thousand times more powerful! Just as Ikki is about to be consumed, he extends both his hands in front of him and the whole Finish Blow is contained around him!!
"WH... WHAT!? HE CAN SURVIVE IN THE CENTER OF GREEK IILLUMINATON!!"
[NA... NANI!? KOITSU GURI-KU IRUMINE-SHON MATTADANAKA DE MOCHIKOTAERU TO WA!!]
"RECIEVE THIS! THE REAL PUNCH OF FIRE!! PHOENIX WING GLIDE!!!!!!!!!!!!!!!!!!!!!!!!!!"
[UKE YO! SHIN NO HONOO NO KEN!! HOU YOKU TENSHOU-------------------!!]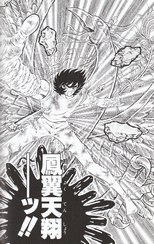 Again, Prometheus launches a giant flaming orb to cancel the Phoenix flying toward him!! But this time, the Bird of Fire devours the orb almost as if it is feeding on the Cosmo, finally it flies through Prometheus!!
"GYAHHHHHHHHHHHH!!!!!!!!!!!!!!!"
The Prophecy God flies meters away, crashing to his death. Ikki walks away and he can sense Athena has climbed up half of the way towards Zeus Temple. He says out loud, "ATHENA!!"
[ATENA WO!!]


End of Episode 20.

PREVIEW:

Shun confronts one of the most awesome Gods of Heaven, the Goddess of the Moon!!
Finally, the real truth about the Warriors of Hades, the Specters are revealed!!
And, can the Earth really be saved...?

Saint Seiya The Zeus Chapter - Olympus
[Zennoo Shin Zeusu Tenkai Hen
Almighty God Zeus Sky World Chapter]

Episode 21: D X V!!
[ Di- E-kusu Bi-!!]
22: The Ultimate Sacrifice!!
[Saikou no Gisei!!]

HAVE YOU EVER FELT THE COSMO OF ZEUS!?
KIMI WA ZEUSU NO KOSUMO WO KANJITA KOTO GA ARU KA!?